OH HAPPY DAY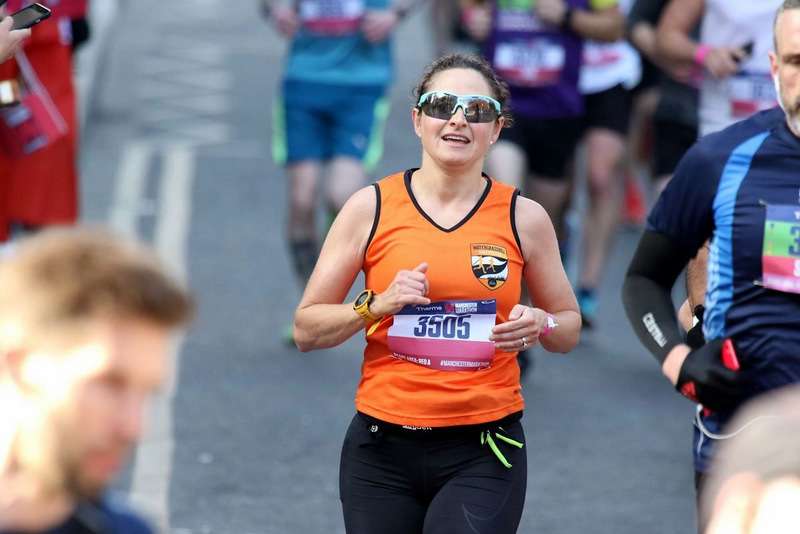 Stazza's Angel Leona "Loves To Tri" Browne whacked a sensational 8'25" off her full 'thon PB at the Manchester Marathon.
Browne battled frozen fingers and torpid toes en route to completing the 26.2 miles in 3:18:25—not bad for someone who only runs a third of the time. 😉
The triathlon lover placed a very respectable 44th F35 and 195th woman overall, but, in her modesty, she added, "Just a few back from the top.
"
"The Chin" caught a glimpse of Browne finishing the race—then, immediately kicking her runners off and searching for the bike, with her cleats ready for clipping in. He judiciously whisked her away from the mêlée, and settled her with a can of Irn-Bru (to top up her glycogen):
Ally: That's it, get that ginger into you. You really are triatha-nuts, woman, ha-ha. Feel better now?
Leona: Oh, yes. This stuff is like nectar; I might use it for my training runs. The Maurten mortgage I took out is getting a bit pricey, so I might substitute this.
Ally: I've been telling Stazza that since I took the job—plus, it's made from girders, so you'll get all the minerals you need. Now, tell me how it went.
Leona: It was a tough route; a lot of pulls and sneaky climbs. Miles 15 to 17 were a tough slog.
Very well-organised and lots of entertainment on course. Water stops every three miles, which was great. Would I do it again? I am on the fence but happy to have it ticked off my list, complemented by a PB.
Ally: Yes, fair play to you, Leona. A chunky PB to take home with you after a few shandies. What's next?
Leona: No shandies, unfortunately. But I'll have plenty when I get home to help me recover from Stazza's marathon training block. Hopefully, the queues aren't that bad, and I can get back to Irish soil ASAP… After that, the Cork City Half … And then it's tri season.
Ally: Ha-ha, I knew you couldn't stay away from the swimsuits and cleats for too long. Thanks, Leona; I'll be seeing you.
Leona: Thanks, Ally—likewise.
The Stable News was on the hunt again to track down the elusive Coach Stazza. This time he was at the Irish Aerial Creation Centre, learning the "ropes" of aerial acrobatics: "I saw P!nk doing this at one of her shows, and I thought, I'll give that a go. I admired her spirit and bravery … Much like our very own Leona Browne … Swim, run, bike, she can do it all, and this gigantic PB shows she's really got the running sorted. A graceful gallop, Mrs Browne … Nuff said."