OLSEN FINDS A HARBINGER OF GOOD THINGS TO COME—#S10RR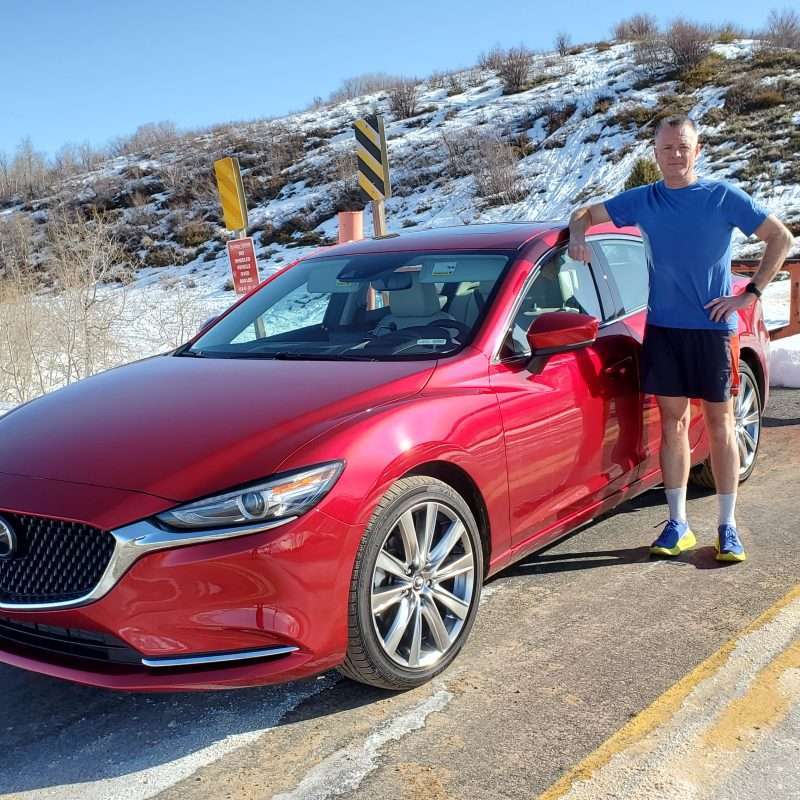 This is a Stable News x Stablemaster 10 Race Report.
My car speeds smoothly up winding mountain roads, hugging each curve as it passes near stunning mountain peaks laden with fresh snow. The leather steering wheel feels comfortable and precise in my hands, and I feel the thrill of effortless ascent up this beautiful canyon that I have come to love, knowing that I am gaining precious elevation that I will consume as I descend during my run.
The car is a bright red Mazda6 with a white leather interior, a recent purchase that still feels almost excessively luxurious to me. Some might call it a manifestation of a mid-life crisis, but in truth, that stage of life passed me by some time ago!
The sky is gloriously blue, the sun is bright and warm for early spring, and I am about to begin a solo 10K time trial race down Monte Cristo canyon in northern Utah. My sweet wife has agreed to drop me off at the gate that blocks vehicle traffic from driving farther because the road is still snowbound at higher elevations. There is an enormous gravel parking lot there that is a popular staging area for snowmobilers, and some enthusiasts have already unloaded their machines and are zipping madly through vast fields of pure white snow.
To our relief (literally), there are multiple restrooms at the parking lot. I pull the car to a stop near one of them and begin gathering my running gear. Suddenly, I catch movement out of the corner of my eye. To my delight, a gorgeous bluebird has noticed the arrival of my bright red car and has come to check out this anomalous and eye-catching newcomer in its morning. It flutters around the car for a moment, clearly curious. Then, in a moment that takes my breath away, it lands on top of the driver's side mirror of my car, about a foot from my face, seemingly unaware of my proximity.
It is surely one of God's most beautiful creations—a tiny, feathered friend no bigger than my fist. It is a delicate light blue with grey feathers underneath. In many cultures, bluebirds are a symbol of happiness and joy, and they signify that positive things are about to occur. Did it have meaning for me?
As with so many snap-happy smartphone users, I instantly feel the need for a photo! Very slowly and cautiously, I reach for my phone to position it for the perfect pic. But alas—the bluebird sees my movement and immediately flits away. However, the thrill of the moment remains.
I gear up: HOKA One One Carbon X shoes, Thorlos socks, Brooks Sherpa 2-in-1 shorts, REI merino wool short-sleeve shirt, Garmin Forerunner 245 Music GPS watch, Plantronics Backbeat Fit headphones, and my Samsung Galaxy S10 phone in a waist belt, finished off with lightweight sunglasses. My wife takes a photo of me leaning against my car, then drives down the canyon to wait for me precisely 6.21 miles away (I already identified her waiting location with some detailed work on Google Earth the night before), where she will do her own walk/run. I do a slow one-mile warm-up run around the large parking area, then lean against the snow boundary gate to perform my final stretches.
During my pre-run routines, I reflect on what a crazy year it has been. A global pandemic, lockdowns, restrictions, disruptions, and cancellations of races and things we love to do have left us all weary and aching for a return to normalcy. But things are looking up: I've received the first of my two COVID immunizations, new cases are going down, and the world feels poised and ready to surge back to life and full activity. The new growth and warmer temperatures of spring only add to my increased sense of optimism. What better opportunity could there be to celebrate better times ahead than to run as fast as I can on this spectacular spring day in this perfect setting!
I turn toward the open road, start my watch, and I'm off. I have a big smile on my face, and I feel light, happy, and excited. I am hoping to run under 7:00 per mile and notice early that my pace is around 6:00-6:15 per mile. I can tell that the air is thinner at the 7,200-foot elevation and my body must work harder to extract the needed oxygen, but I still feel great. The first mile seems to fly by in no time at all, and I clock in at 6:11, one of the fastest miles I have ever run. My mind begins racing and calling up the eternal optimist inside my head, wondering if perhaps I could finish well under 7:00 minutes per mile. Mile number two flies by at 6:14, and I am starting to feel very excited—this is much faster than I usually run!
Then the faster pace starts to take its toll. I can feel my body starting to strain, and my watch announces through my earphones that mile three was completed at a 6:39 pace—I am slowing down. I am now halfway done, but I know I started a bit too quickly; combined with the higher elevation, my lungs and legs are starting to burn. I feel like stopping —can't I just catch my breath for a moment? No! I know I will be very unhappy with myself if I don't push on.
So I grit my teeth and continue forward. I know that I banked some fast miles in the first half, and if I can keep a decent pace, my overall average will be satisfying. If I had the talent of many of my fellow runners, I could bang out mile after mile at exactly the same pace, like the metronome sitting back home on my Yamaha G5 grand piano. But right now, the only thing of importance is what Kurt Olsen can do, nothing else.
I grind through miles four and five at 7:03 per mile each, and then 7:06 for mile six. My Mazda6 is now in view, parked next to the road, beckoning me as an impromptu finish line. I pass my wife, who is walking near the car, cooling down after her run. She looks at me but doesn't cheer, seeing my intense focus. I stop my watch at 6.21 miles plus a few steps, put my hands on my knees to gulp in some air, and then look at my overall pace: 6:43/mile average. It's the fastest I have ever run, on a per-mile basis, for any race of any length during my 19 years of running! I raise my arms and let out a whoop of joy. This is far better than I expected!
We drive down the canyon, reach a spot where we have cell service again, and I post my time trial results to Strava. My running friends, as always, are so kind, encouraging, and supportive. The glow of achievement lasts for days.
Fast forward one week: on the advice of Coach Stazza, I decide to run the same course for my second 10K time trial. It feels like déjà vu: driving up the same canyon in my red car with my wife, parking next to the snow gate, getting another photo with my car, and preparing to run. The sky is clear and blue today, but the temperatures are much colder, near freezing, which means that leggings, jacket, hat, and gloves are in order.
There is one difference in my routine today: I mix a Maurten 320 drink sachet with precisely 500 ml of water and sip it for the 45 minutes preceding my run, finishing the last few swallows just before I start. I am very well hydrated today, urinating like the proverbial racehorse right up until launch time.
I do the same one-mile warm-up around the parking lot, and then lean against the snow gate to do my stretches. I wonder: by chance, would I happen to see my bluebird friend again today? Surely that couldn't happen. As I am going through ten reps on each side of a full-body stretch that I invented, I look up, and am astonished to see a pretty bluebird flying just a few yards in front of me and land on a nearby tree. I choose to believe it's the same bird from last week; after all, who can really argue otherwise? I can't help but grin. It's going to be another good day for running!
And indeed, it is. This time, I manage the clock a bit better: my first mile is 6:20, a whole 10 seconds slower than last week (insert eye roll here, as if that small of a difference will have an impact on the overall outcome). But then mile two is at 6:12, then 6:15 for mile three. The fatigue starts to build, but I focus on running more relaxed this time and push through. Mile four is at 6:34 and mile five clocks in at 6:49. I start paying less attention to my watch and concentrate on running smoothly with good form. I drop only one additional second for mile six at 6:50, and then sprint toward my beloved wife and car (prioritized in that order, obviously) to finish my race. My overall pace: 6:30 per mile. I cannot believe it. I am ecstatic!
This is the fastest I have ever run in my life. It is my greatest sports-related triumph, coming at the age of 57 after running for nearly two decades, not having started until I was almost 40. I've had some great running experiences over that time: over 12,700 miles in total, with 40 marathons, including Boston, and a smattering of other distances raced. To set a new PR (3'03" faster than my previous best 10K, set 16 years ago, and 1'19" faster than just a week ago!) at an age when most others in my same bracket have given up on fitness altogether brings me a sense of accomplishment unlike anything I've experienced before, and it happens on a solo run in a beautiful canyon—just me against myself.
New life. New hope. Renewed optimism. Perhaps that bluebird truly was signalling better things to come. I think we're going to be okay, after all.
Kurt Olsen,
Sunday the 28th of March, 2021.