PODIUM AND PB BONANZA IN NEBO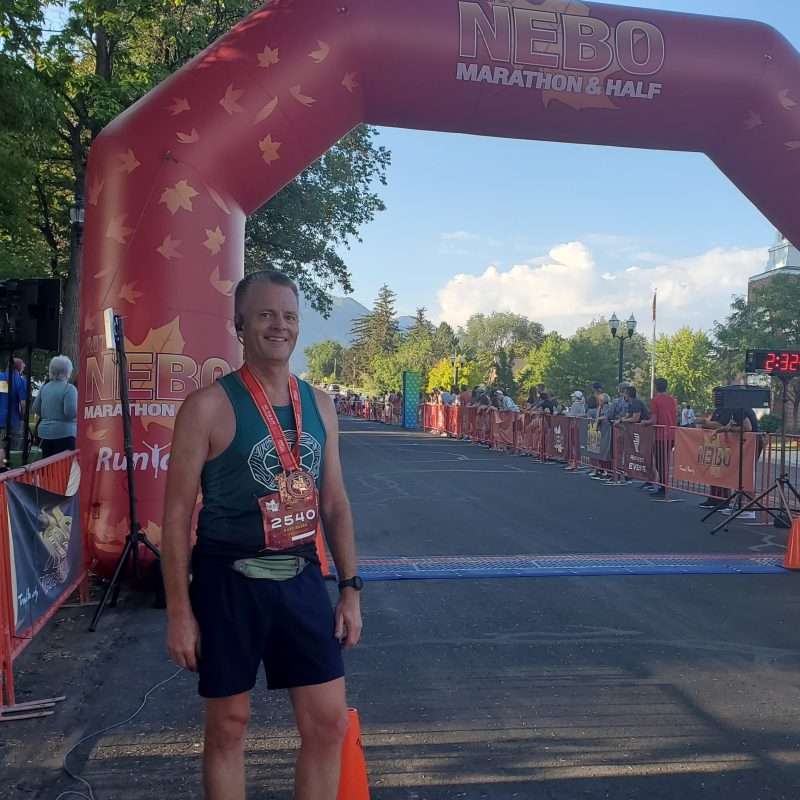 Kurt Olsen Podiums With Huge PB In Nebo Half
Stablemate Kurt Olsen stunned the running world with a genuine Benjamin Button performance in this year's Nebo half marathon.
Here's Kurt's race report with the details of his huge PB:
Running the 2020 Mt. Nebo Half Marathon felt like coming full circle on my 18 years of running. Back in 2002, at the ripe old age of 38, I decided to take up the sport of running. However, my timing wasn't that great – just as I was starting, I took a vicious hit playing basketball and the ACL and MCL in my left knee were completely torn. After surgery, the doc suggested biking instead, but fortunately, I ignored his advice, pursued rehab with a vengeance, and started running. All I could do was three miles per run at first, with plenty of knee pain, which took two years to fully go away.
But I started doing a little bit more, then a bit more. Then someone suggested I try a half marathon, which I thought was laughable. However, I kept working, and just over a year after my ACL replacement surgery, I ran the Tri-State Half Marathon that ended in Mesquite, Nevada, my first real distance race. To my surprise, I took 4th place overall.
It was a huge confidence booster for me, and I started entertaining the idea of running a full marathon. Just over a month later, I ran my first marathon in Park City. That summer, I ended up running five marathons. I qualified for Boston on the last two, which were two weeks apart. I was hooked!
Fast forward 17 years and 40 marathons later. I had the good fortune of being introduced to Coach Stazza by my high school classmate Kraig Packer, and have really benefited from his expert guidance over the past year. With most races in 2020 being canceled, I was happy to see the Mt. Nebo half going forward and signed up. I determined that I wanted to beat my PR that I set in 2003 at that Tri-State half. My training has been going quite well, and I've made some important shoe changes that have made an enormous difference with my chronic 5-year Achilles heel tendonitis.
I had a great pre-race strategy call with The Coach. We talked about pace targets, and he made two suggestions that stuck with me: 1) Relax! 2) Stay perpendicular to the road, since it's a downhill course. I added another: 3) Smile! I had watched a video about Eliud Kipchoge's historic sub-2-hour marathon run, and part of his mental strategy was to run with a smile, because it helped him perform better. So I tried to do the same thing! I really focused on relaxing, even closing my eyes a few times and telling myself I could fall asleep doing this! It really helped me perform better. I also focused on how great it would feel to set a new PR, and imagined myself crossing the finish line and feeling that joy and accomplishment.
The temperature was perfect, the course was beautiful, and I just felt great. After a 7:20 first mile, Coach suggested a target of 7:10. But I just couldn't help but go at 7:00, and after a few miles, dropped into the 6:45-6:50 range. As he predicted, mile 9 was where it got tough. I couldn't quite keep the same pace, but managed to stay around 7:30. With the time banked in the earlier miles, I was able to finish with a 7:04 average pace.
That was good enough for a 6'03" PR. I was so elated! It's possible I even got a bit emotional. Then when I got a printout of my results, I was even more excited to discover I had taken third place in my age division, good for another medal that clanked happily on my chest against the finisher medal.
I realize that in the Stazza Stablemate world of incredible, often world-class athletes, my time really isn't that impressive by comparison. But here is what I've learned over the past 18 years: this sport of running is all about overcoming ourselves. Sure, we compare our results to others, and the competition is fun. But for me, the greatest sense of accomplishment comes from overcoming my own adversity and challenges, like a torn-up knee, the ridiculous thought that I could become a decent runner after starting so late in life, chronic heel pain, getting up early to go outside and run when it would be a lot easier to just snooze, and crossing that finish line after an exhausting long run.
My wife thinks I'm a bit crazy to do all of this running – she calls it a "sickness." Probably there is some truth in that. But the feeling of internal joy that comes from doing something that is really difficult and overcoming ourselves is unlike anything else, and in the end that's what makes it worth doing for me.
Melissa Terpenning Wins Nebo Half
Stablemate Melissa Terpenning turned on the speed to take the win at Saturday's Nebo half marathon in 1:28:29.
Melissa's recently returned from an achilles niggle and was delighted to take the win. She told The Stable News: "I've built back from rehabbing the niggle to easy mileage, so to win today surprised me. This now means I'm ready to back into full training."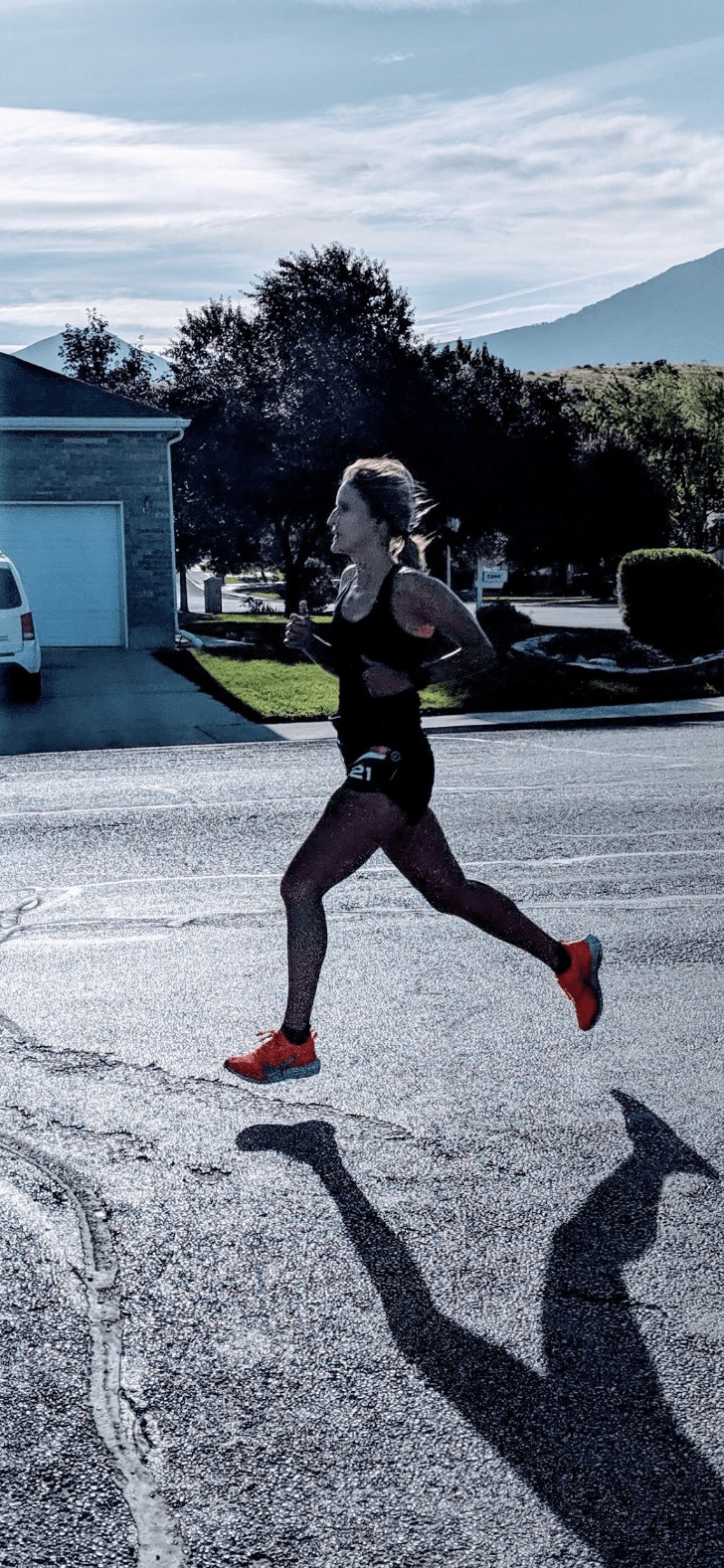 The Stable News caught up with The Stablemster in the famous Cork burger joint, Son Of A Bun, where he was devouring a chilli burger: "Yeah, great news coming in from Nebo. Melissa's win is fantastic. She's just back into training and it's clear her default fitness is much higher than last year. This will set her up for a great Autumn."
Scott Allen Podiums In Nebo Half
Stablemate Scott Allen turned in a great run at the Nebo half marathon to take second place in the 50+ age category with 1:24:50.
Scott told The Stable News: "This was my sixth running of this race and my second fastest time. It was great seeing familiar faces again…In all a very fun race and I am happy that I got to run one this year!"
A great day for Stazza's Stable in Nebo.