REBEL REBEL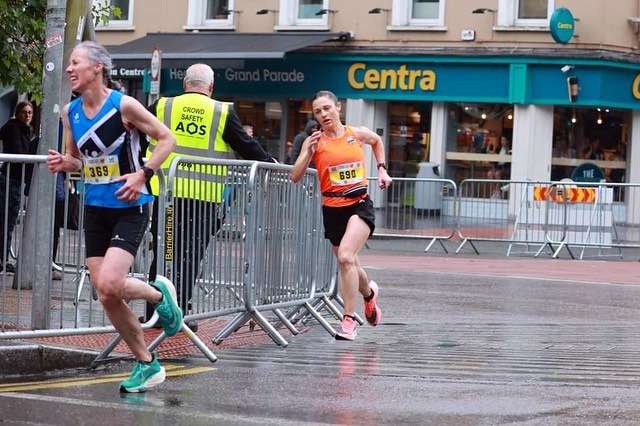 Stazza's Angel Laura "Lolo" Rooney ran her best mara' to date (whacking 2'46" off her PR, in this, her 28th), scoring a spectacular 3:00:52 in Graham Norton's home city—Cork!
Inching her way ever closer to joining the famous sub-3 club, Lolo gave a good account of herself in the overall standings, placing eighth female on top of a scintillating age category silver.
The deluge of rain was welcomed by some, including Lolo; she pierced holes in her expensive cheater shoes so as not to be weighed down by the ensuing onslaught.
The Stable News ensured "the Chin" hung around after the half to pick up Laura's and any other Stablemates' accounts:
AS: Fancy seeing you here! Running a marathon? What's the chances? Ha-ha. How'd it go, Lolo?
LR: Loved it! Slightly negative split, so I'm happy with that because Cork is hilly in the second half. Lots of support, and now I'm going for plenty of pints with the WGH club members.
AS: Brilliant, Lolo; a healthy amount off the PB and so close to breaking three hours—a fantastic run … Oh, and once I've rounded up any other Stablemates, we might join you. See you later.
LR: Thanks, Ally, see ya.
General Puffball popped over to Stazza's gaff for a catch-up on all things running, and an inadvertent discussion of Russian writers:
GP: Evening, Coach.
CS: Evening, General. We've just recorded the latest episode of The Stablemaster Speaks, and we mentioned Lolo's terrific trot … I also recounted my trip to Greece, during which I read War and Peace; boring as heck, but it was my introduction to Russian literature … On my way back from Skyros, I thought I should investigate Russian literature a little bit more … I got into Chekhov and Dostoevsky … Chekhov, for me, is a match for James Joyce on short stories.
GP: I was always more of a Tolstoy fan.
CS: Oh, come on. I'm embarrassed for you … Tolstoy is like JK Rowling … It's fluff, it's pulp fiction … Jeez, with the Russian writers, you've got to go Crime and Punishment, The Brothers Karamazov, and Notes from Underground … The three best novels in Russian literature, by far … Ugh …
GP: I certainly wasn't knocking Fedya. They're two great writers who approached things from very different viewpoints. Steiner found much to like in each of them.
CS: OK, OK. We'll continue this another time. You dropped by for a take on Lolo's run, so let's get into that.
A magnificently paced effort through the streets of Rebel country… A negative split on the lumpy back section is a testament to how much control she showed through the first three-quarters. It's like my hero Barry Magee said: "Anyone can run 20 miles. It's the next six that count." Well done, Lolo.