REECE LIGHTNING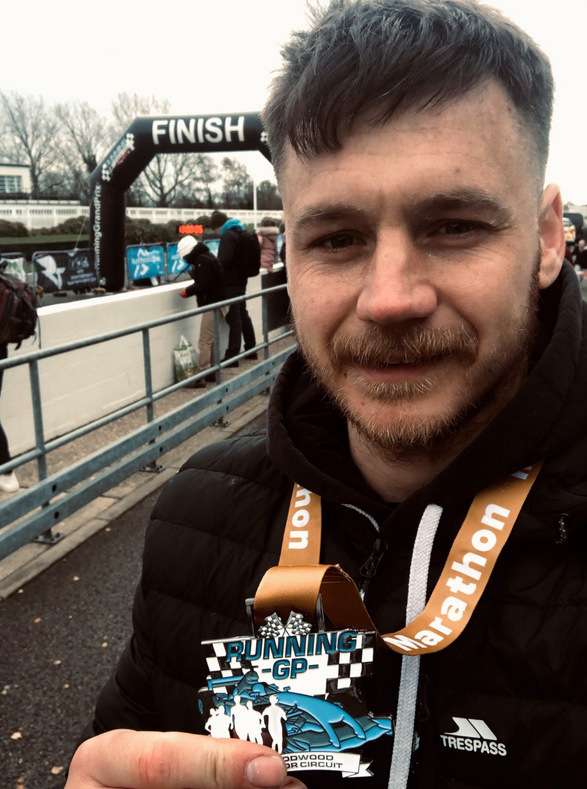 Stablemate Reece Toop slashed a massive 21 minutes off his marathon PB at the Running GP at Goodwood Motor Circuit, even though he's "only" on Stazza's Super Base—unbelievable!
Toop's longest run going into the race was a decent 16 miles, but he still managed to clock a sensational 3:22:18, crossing the line 37th out of 150 finishers.
Toop battled 18mph head/sidewinds on each lap, keeping close to the apex and shielding himself from the wind behind other runners. What a clever cookie!
The Stable News' little helper, Ally "the Chin" Smith, caught up with the youngster in the pit lane, post-race, for a Belgian Bun (from Simmons) before they cosied up to watch Step Brothers:
Ally: How's it going, Reece? What a place this is to run! I can just imagine you making broom, broom noises and squealing in the corners.
Reece: Ha-ha, yeah, mate. It's a great track if it's not windy! I'll pick a better time of year to try it again.
Ally: Aye, the wind is the runner's nemesis, alright; how did you feel during the race?
Reece: I really enjoyed it, although with the wind I felt like I was running with weights on for that part of the course. The fuelling was spot-on: everything went down, no gut issues—everything was fine. I had signs of cramp around mile 21, and then a bit of a cramp did kick in, but I managed to run through it. It didn't stop me running, so that was much better than last time. Considering I've only done about 16 miles the last couple of months and didn't really do any big mileage, that's probably what caused that. Yeah, it was brilliant: training, fuelling, and everything else was working well.
Ally: Fantastic, buddy! What's next on the horizon?
Reece: The next one will be the Thames Path 100 in May.
Ally: Brilliant, bud; extend that pace out for 100 miles and you could be the winner!
Reece: Ha-ha, if only. Cheers, Ally.
The Stable News called Coach Stazza for a quick comment before he embarked on a high roller's night at Oceans Casino in his hometown of Tralee: "A top-notch performance, Reece! If I were a gambling man … which I am … I'd have bet my house on you getting a massive PB … If only there were bookies there to take it. I'll get my man Fairhurst trackside for your next attempt, and we'll be rolling in it. Enjoy a couple of easy weeks before we get you ready to ultra."