RETURN OF THE MARK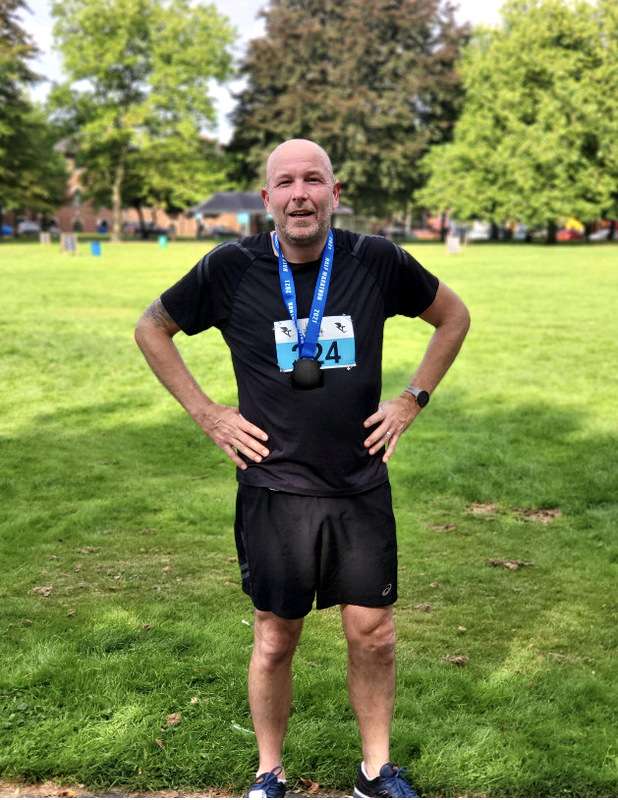 Stable baby Mark "the Tic" Fletcher kicked two minutes off his half-marathon PB at the Warrington Running Festival in Cheshire, with a back-of-the-net 1:43:33. Running halfway between Manchester and Liverpool, the Tic was somehow blessed with glorious sunshine and 20℃ temperatures! UNBELIEVABLE!
Fletcher joined The Stable in March of this year. Fed up with eating pies and watching his beloved Wigan Athletic take a hammering each week, he took on the challenge of falling back in love with running—and with Stazza's help, he has rekindled his passion.
The Stable News' mascot, Ally "Bally Bee", 🐝 was buzzing around the finish for Fletcher's take on the race:
Bally Bee: Woo-hoo! Give me an M! Give me an A! Give me an R! Give me a K … WHAT DOES IT SPELL? MMAARRKK! Brilliant run, Marky boy. How was that?
The Tic: It was good, thanks—nice flat course, and the start line was organised by estimated finish time, so people weren't racing under your feet.
Bally Bee: Nice one! What about placing and PBzzz?
The Tic: Just outside the top 100 overall, finishing 116th/583, and I was 23rd/65 V40. As for the PB, I've only run one other half-marathon (the Great North Run back in 2010), and this was two minutes quicker, even though I'm ten years older. Not bad for someone who can eat their bodyweight in pies!
Bally Bee: Zzzuperb, pal. You must be BUZZIN'! What else you got coming up?
The Tic: Yeah, I'm really chuffed; the Murcia Marathon is next for me on February 22.
Bally Bee: Ooft, that's not far away. I suppose it'll keep you off the pies through Christmas, hahaha. Well done again, pal. I better shoot; I'm about to faint in this get-up.
The Stable News heard rumblings that Coach Stazza has been suffering from a bout of hysteria for the hundreds of Stablemates who will be racing in the forthcoming weekends: "Zeus help me … I'm even more nervous than if I was running the races myself, like an overprotective, Stazza-copter-parent! At least Mark's done the business. That's calmed my nerves for a bit. A two-minute PB is a great start. Plenty more where that came from, my son. Now, you can have one pie—and one pie only!—before the marathon training gets going."