RILEY COOK: A YEAR IN REVIEW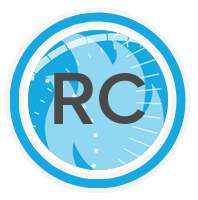 Note: The Stable News staff is presently on gardening leave. As a result, management has resorted to the scab labour of the 21st century—artificial intelligence—to write this article. The algorithms of viral internet sensation ChatGPT drafted this dispatch.
Prologue
It is June 2021. Ally "the Chin" Smith, on assignment for The Stable News at the Utah Valley Marathon, watches in stricken horror as OG Stablemate Riley "the Captain" Cook berates himself for delivering an uncharacteristically poor performance. It's been a bad day at the office. A side ache and projectile vomiting left him hobbling to the finish. "If I want to keep racing marathons, I've got to put in all the work," he dolefully declares.
It had been a bad couple of years at the office for one of the Beehive State's most prominent road warriors. A broken back, exertional rhabdomyolysis, and lingering IT band issues (not to mention the small matter of reaching the big 40) led many onlookers to speculate that it was time for the Captain to be put out to pasture.
But they hadn't accounted for the deep well of fortitude that lies within Riley Cook. The fortitude that led him to run a sub-20 5K with no training as a 13-year-old. The fortitude that inspired him to win a triple crown of 3A titles in high school and earn a scholarship to Division 1 Weber State University. The fortitude that flew him around the track at the 2006 Payton Jordan Invitational, clocking 3:42 for 1500m (equivalent to a sub-four-minute mile) in the friscalating Stanford dusklight, stunning legendary coach Chick Hislop.
Perhaps above all, the fortitude that drew him back to the sport after a three-year, post-collegiate break to run a 65-minute half-marathon.
Cook resolved to rage against the dying of the light. And with both his beloved wife, Amy, and Coach Stazza in his corner, he turned 2022 into an annus mirabilis, winning multiple national titles, scalping not one but two members of Team USA from the 2011 World Athletics Championships, and, most significantly, qualifying for the 2024 US Olympic Marathon Trials, which will be held in Orlando, Florida.
Act One: USATF Masters 10 Mile Championships (April 3)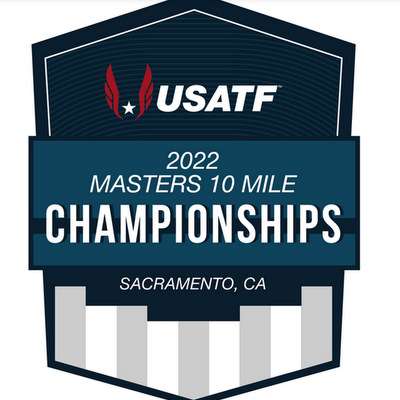 The Captain sprang into action in sunny Sacramento, breaking the magical 50-minute barrier and claiming gold. He also laid down a marker for the months ahead by taking down former élite marathoner Sergio Reyes in the Californian's début as an OAP competitor.
Spake Riley: "Reyes went out fast and was the only master runner in front of me. I paced a couple seconds off him for the first three miles. I knew I couldn't hold low 4:50s for 10 miles.
So I made a conscious decision to pull back to 5:00 pace, knowing I was letting Reyes go and hoping he would come back. I battled the 'just-slow-down' demons in mile five and tried to stay positive.
Suddenly, I was gaining, and by mile six, I passed him. I built a seven-second lead by mile seven and then extended it to win by 36 seconds."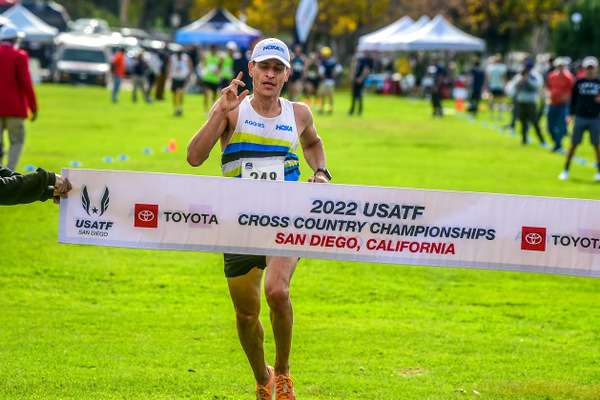 Onwards!
Act Two: USATF Masters 12KM Championships (September 18)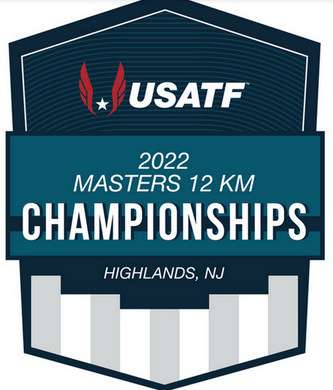 The deceptively humid Jersey Shore was the scene for the Captain's second national title of 2022. This one turned into a match race between the Utahn and erstwhile élite steeplechaser Ben Bruce.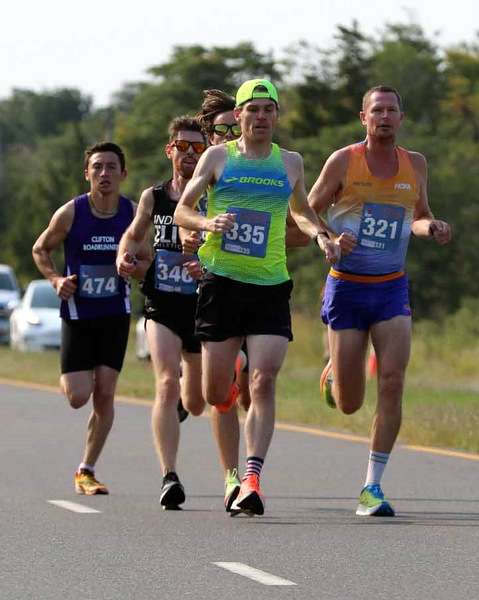 Riley went hard from the gun and gradually wore down the kebab addict's defences, pulling clear in the closing stages.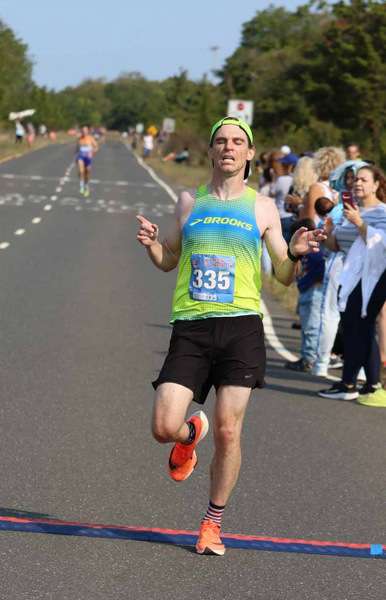 This brace of triumphs established him as a leading contender to win the overall USATF Masters National Grand Prix. But there was one particular fish Cook was more interested in frying.
Act Three: USATF Marathon Road Championships (December 4)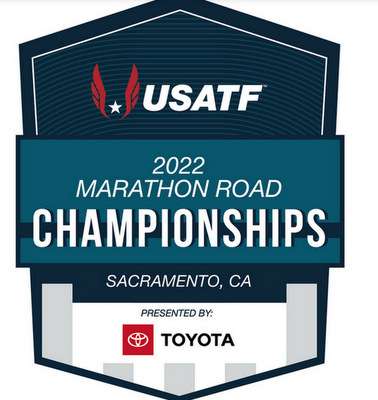 A return trip to Sacramento for the pièce de résistance. We'll let the Captain speak for himself with this slice of first-person reportage:
"A decade-long goal achieved! OTQ at age 41, I'm so grateful. I'm physically and emotionally drained.
It looks like I finished 37th overall in a stacked field. I was the first master, but I don't think they give anything for that this year, as all the prize money was focused on the national championship. [Note: Riley did earn a $500 bonus for achieving an OTQ.]
I was extremely calm and relaxed all week and weekend. Usually, before a marathon, I'm thinking about it a lot and strategising/doing math, etc. I didn't necessarily have a pacing plan for this race. I just wanted to find a good pack of guys to run with. Everything went off without a hitch morning of, except for one thing: when I got in the car for my dad to drive me to the shuttle, I accidentally dropped my gloves. Halfway there, I realised this, but we didn't have time to go back.
So I instead was going to need to wear my arm sleeves, which have the option of pulling material over your hand like a glove. I thought this was bad luck, but it turned out to be maybe the best thing that happened all morning. I had to decide where to put my watch: under the arm sleeve where I couldn't see it, or over the top of the sleeve. I wanted to ditch them mid-race, so I chose to wear my watch under the arm sleeve.
They had a pacer for 2:17:59, and when I saw him, I thought I'd just run with him, knowing he'd have a huge pack with him. I tried that for the first mile. I pulled the arm sleeve back, which is a bit cumbersome to do, and saw 5:08. That was the last time I looked at my watch until mile 21.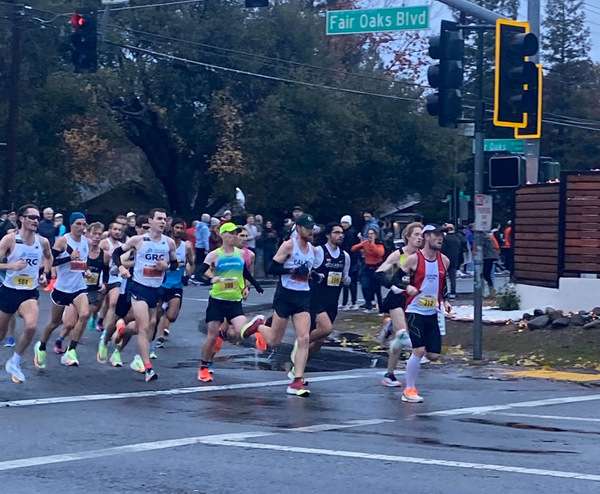 After this mile, I kept finding myself in front of the pacer and in front of that whole pack of guys. I tried once or twice to slow down and get in the pack, but I kept finding myself in front. So I decided that my body wanted to run faster than that. I chose to let it. And as I chose to let it, I also chose to not look at my watch. I figured as long as I was in front of that pacer and that pace, I was fine. So I didn't really care what the splits were.
I finally worked up to a really good pack of guys by mile five or so, and I ran with them for the next 16 miles. I did see the clock displayed at 10km, 15km, and the half. So I knew I was in uncharted pacing territory for me, but it felt right. I felt strong. I felt good. It almost felt easy, and I wasn't even sure what our splits were. My only focus was to stay with the pack. At the half, we were 1:07:59: 'Oh, OK; I guess I'm running with the 2:16 pack.'
This didn't scare me at all; in fact, it comforted me. I typically get a bit dehydrated towards the end of marathons and lose pace a bit, no matter how many cups of water I grab en route. I knew that I had at least a one-minute cushion now to run under 2:18. And every mile I stayed with this pack, the cushion was growing.
I felt so good and strong … Until mile 21. I started to feel the dehydration and fatigue coming on. I took my last UCAN Edge here. I fell off the back of the pack. I knew this was the moment. This was the time my body wanted to slow and I couldn't let it. I fought to get back to the pack and did, but only for one more mile.
Now I was checking my watch for the first time, doing math. OK: if I stay under 5:30 pace, I'm fine. But I can't bleed more time than that, and I don't want to rely on that. So I just fought for every second. 5:23 is better than 5:25, so fight for those two seconds.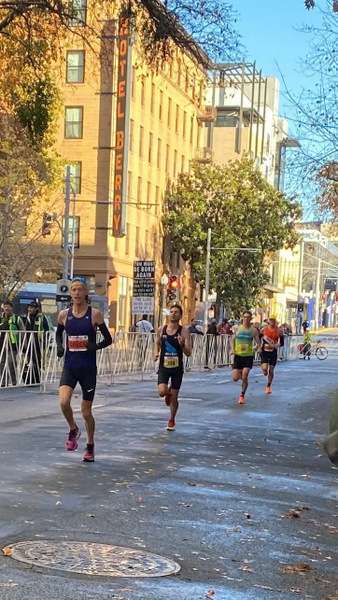 By mile 25, I knew that unless I really blew up and ran well over 6:00, I had it. But again, I didn't want to rely on that, so I tried to keep it under 5:30—didn't quite get it there. I think it was 5:35, but it was good enough. I was in so much pain. I saw my dad at 26.1, and my mom right before the finish line. It was fun to look over and see them cheering. In the last 50 metres, I celebrated as if I had won the race. Ha-ha. It was a cool moment to see that clock and know that I'd finally done it.
In the end, the perfect plan just naturally materialised as the race unfolded. I honestly don't know if I would have made it if I had stayed with that 2:18 group. Looking at times, I don't think most of that pack made it— maybe only two-three. I also think that I may have slowed at the end regardless of how fast I went out. It's something I still need to figure out and work on … those last four miles. Maybe more water and one more UCAN Edge would do the trick (I took water cups every station and took UCAN Edges at seven, 14, and 21).
A huge thanks and shout-out to Amy Cook, Coach Stazza, my family, and all my training buddies for the support. I couldn't have done it without you all."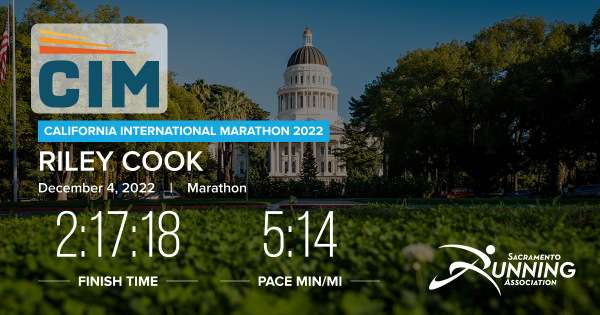 Say hi to Mickey and Minnie for us, Captain! You've done The Stable proud.