RILEY TAKES IT TO THE HIPSTERS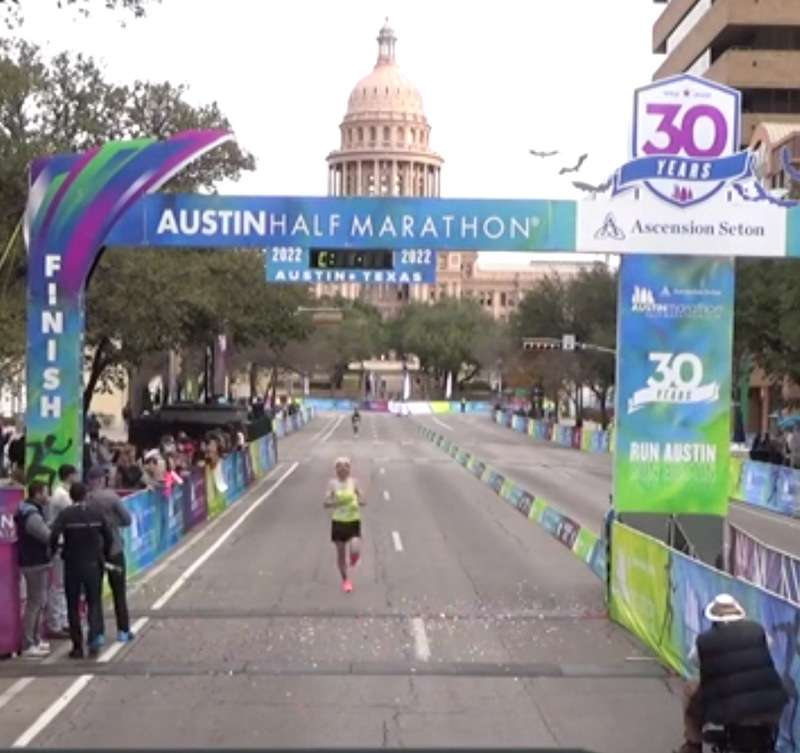 Elite Stablemate Riley "the Captain" Cook crushed the competition with a piping hot 1:07:09, taking bronze (and first American) at the Austin Half-Marathon in the Lone Star State—Texas!
Toeing the line in perfect conditions, the Captain knew he was in for a great run. The slight breeze and low 40s (℉) temps kept him cool as he sizzled up a storm.
Pacing to perfection, Cook bided his time before pouncing on the top three—and an epic battle ensued.
The Stable News was at the front of the press pack to secure an exclusive from the top dog:
"It was a good race for me. The course was hilly, with several short, steep climbs and one long, gradual 200-foot climb.
I was hoping to run 66/67 and ended up right there. I was in 10th or so early on, pushed to the top of the gradual hill and then downhill to slide up to the third-place guy by mile five.
Battled with him until mile eight and got a small gap. Beat him for the last podium spot by 11 seconds!"
Back on the Emerald Isle, Ally "the Chin" Smith and Coach Stazza were playing Top Trumps: Athletics Edition over Zoom:
Ally: OK, what're you picking, Coach? Speed, endurance, strength, or power?
Stazza: Oh, I'll go speed with my guy. He's the fastest ever over 5K—Joshua Cheptegei!
Ally: Ah-ha. But I've got the fastest man in the world ever—Usain Bolt! Put your card back in the box, boss.
Stazza: Ah, but even I could beat him over 5K … But someone I doubt I could beat on a bike is Riley Cook. Did you see his Austin half? A sublime run from one of my pre-Stable students.
Ally: Of course I did. I was jumping about the living room with happiness. Mostly, for his fantastic run, but also so he didn't send me a huffy race report again, hahaha. Brilliant run!
Stazza: He is as competitive as they come, and that fight for third showed all his determination pays off. Well done, Riley.
Captain Cook has a few courses he is interested in to next serve The Stable News. Whatever the dish, we will be ready to scoff the lot!