ROCKET WOMAN BLASTS OUT A FOUR-MINUTE MARATHON PB TO WIN ROCKET CITY MARATHON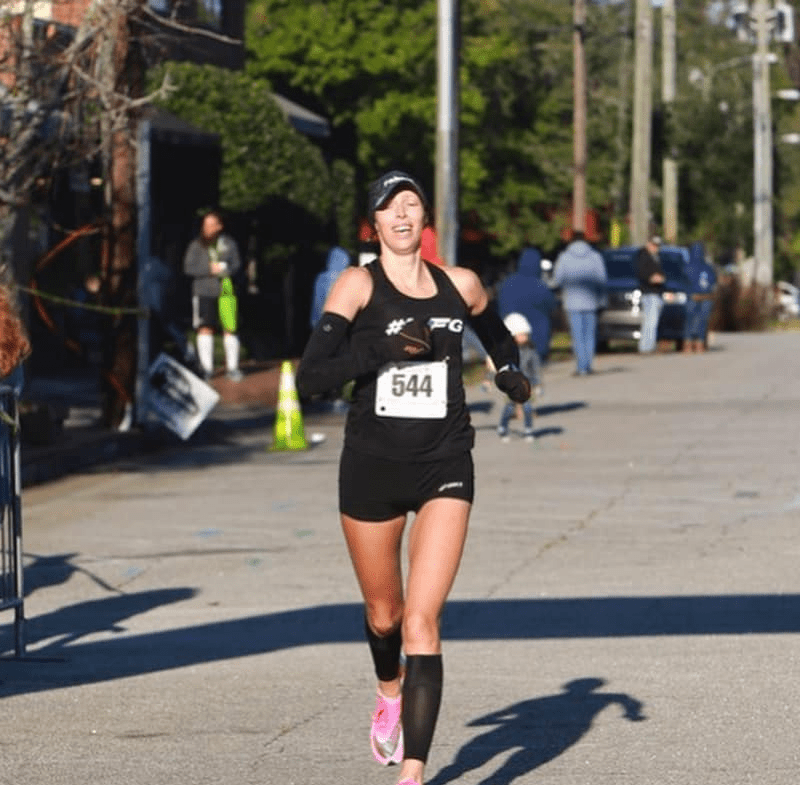 Stablemate and Irish Olympic hopeful, Joy The Rocket Miller, blasted out a four-minute PB at Sunday's Rocket City marathon to take the win. Joy used the race as a structural training run for next month's Houston marathon. The race also kick-started her preparations for a crack at making the Irish team for the 2020 Olympics—she'll race a marathon in May, where she'll go after the sub 2:29:30 qualifying time.
Joy's Rocket City win marked the start of her six-month assault on making the Irish team for the 2020 Olympics.
Her coach, The Stablemaster (Coach Stazza) said: "Over the last few months, we've been working on Joy's endurance. She's dropped out a good few half marathons as training runs—four in the last five weeks (all between 79 and 76 mins). We've used these as endurance spine runs (we progressively add on extra miles after the races)—four months back, these runs started off as 5 milers. Joy's run several HM PBs as training runs too. We've sorted the foundation and will now start the real work."
Eating a taco pizza in the famous Cork eatery, Coqbull, Coach Stazza continued: "This pizza is delicious. Yeah, I'm delighted with the way she's progressing. We tested out our fuelling strategy and it worked a treat. She also ran it as a one-minute negative split—the idea being to gradually pick up the pace to see how she would hold up (structurally). Worked a treat."
Coach Stazza told The Stable News that Joy will take a down week to facilitate recovery and adaptation from the previous six weeks of work. He said: "This will trigger a breakthrough and then we'll work on running around 2:42 in Houston. This will then set her up for a sub 2:29:30 in May and, likely, a spot on the Irish team for the 2020 Olympics."
For Joy to make the Irish team for the Olympics, she'll need to run another 16-minute PB—effectively, a 21-minute PB between October 2019 and May 2020 (eight months).
Joy's confident she can get it done: "I'm running Houston and we'll see how that goes. After Houston, we'll really knuckle down and go after the qualifying time."
Although only a training run, Joy's time makes her the sixth fastest of all-time for a Cork woman—fellow Stablemate and Irish national marathon champ, Aoife Cooke is ranked second, behind Sonia O'Sullivan.
Ireland's best online running website for news, race results, and features, 'Running in Cork', has a guest post by the legendary, John Walshe, about Joy and her background—it's well worth a goosey:http://corkrunning.blogspot.com/2019/12/guest-post-marathon-win-for-cork.html
You can also see Joy chatting about her run and her plans on the TV here:https://www.waff.com/2019/12/15/hear-first-man-woman-finish-this-years-rocket-city-marathon/?fbclid=IwAR1dQcdB4k-Ucyxt38M-_9RBFHkbJpMJ3Xy9hqce9ctnoGIiO_-434ryX9E