SEAN SIZZLES BY THE SEA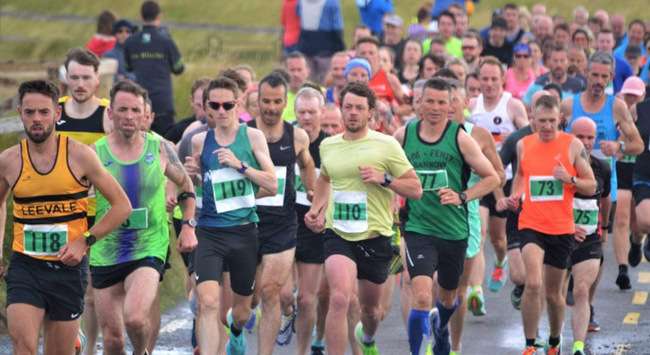 Stablemate "Sizzling" Sean O'Brien banged out a belter of a run at the Banna 10K Road Race, outside Ardfert, County Kerry. Sizzling Sean's 36:42 was only 13 seconds shy of his PB. He narrowly missed the top 10, claiming an 11th place finish in horrid and humid conditions.
The Stable News' tenacious journo, Ally "Never Stop" Smith, hounded O'Brien by land, sea, and air for an exclusive:
"Hi, Sean; I'm knackered after chasing you about! You fair get around. How'd the race go, then?"
"Nice route. Happy overall, as I felt I paced it well. Think it's an accurate reflection of where I'm at. Race route is a little bit short: 6.18 miles on Strava."
"Aft, never mind about Strava distance. I used to think it was gospel until Coach Stazza taught me all the errors of GPS and how they measure the course by the shortest possible line … you must've been taking an even better one, hee-hee."
"Ha-ha! Cheers, Ally."
The Stable News had a long-awaited personal visit from Coach Stazza himself. Swinging in General Puffball's chair—with his feet on the desk—he exclaimed: "That boy has got some gumption! A Corker in Kerry has to keep his wits about him … and no wonder he almost beat his PB with the Kerry lads after him. Well done, Sean. Come over again—if you're brave enough. 😉"
This Sizzling sausage is gearing up for his next race: the P&O Antrim Coast Half-Marathon. With it being billed as "the fastest half-marathon in Ireland," he's going from the frying pan into the fire for a PB.