SEE CLARE C RUN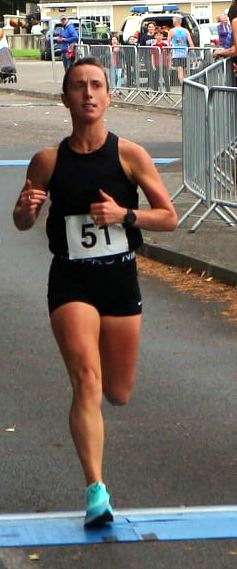 Stazza's Angel Clare "Super Cuts" Coleman chopped an incredible 10'31" off her half-marathon PB in Charleville this past weekend, styling out an excellent 1:34:14. Hot off her recent win at the Tralee 10K, Coleman completed this course as 13th female and 99th overall—tough competition.
Looking all windswept and interesting at the start of the race, Coleman found it "quite warm" before she worked up a sweat and let the howling winds cool her as she ran.
Waiting for Coleman at the finish for an interview, "Vidally Sassoon" Smith beckoned her over:
Vidally: Hi, Clare. Do you have a few moments to let me know how the race went?
Clare: I'm done in! Tell you what, come by the salon later, and I'll sort that mop of hair out. Just bring chocolate!
Vidally: Sounds good to me.
Later that day:
Clare: Come in, Ally, sit yourself down. What did you bring me?
Vidally: Plenty—two 1kg bars of Dairy Milk and three 500g bars of Galaxy. I wasn't sure which you preferred.
Clare: I'm not fussy in the slightest. It's all great, thanks.
Vidally: Great. This won't be typical hairdresser "holiday" chit chat—get chopping and talking.
Clare: No worries, ha-ha! First off, I'm thrilled to bits with my 10-and-a-half-minute PB. Especially in that wind.
Vidally: Holy moly, missus; over 10 minutes in gale force winds is unreal! Plenty of brave souls still came out for support, though.
Clare: Yeah, they sure did. It really is great to be back racing again and having people out cheering you on along the way, especially in those conditions. I really enjoyed the race and felt I paced myself well—and I much prefer a half to a 10K any day.
Vidally: Well, you definitely did that. Thanks for the trim; how much do I owe you?
Clare: Shur just tell Coach Stazza to take 50 euro off my renewal, and we'll be grand.
Vidally: That suits me! I'll let him know … eventually. 🙄 Cheers, Clare.
The Stable News got a hold of Coach Stazza, caught staring wistfully into a mirror: "I remember when I had hair … Luscious locks that bounced beautifully when I ran. Young Coleman would have had a rare time styling me. But never mind the past. The future is bright for you, my girl—loads more to come off your PB on a calmer day. Let's hope the Tralee half is blessed with calm conditions and another stormer of a PB from you."
As Coach rightly said, Coleman will be back in action very soon at the Tralee Half-Marathon on October 24.