SHARPENING THE AXE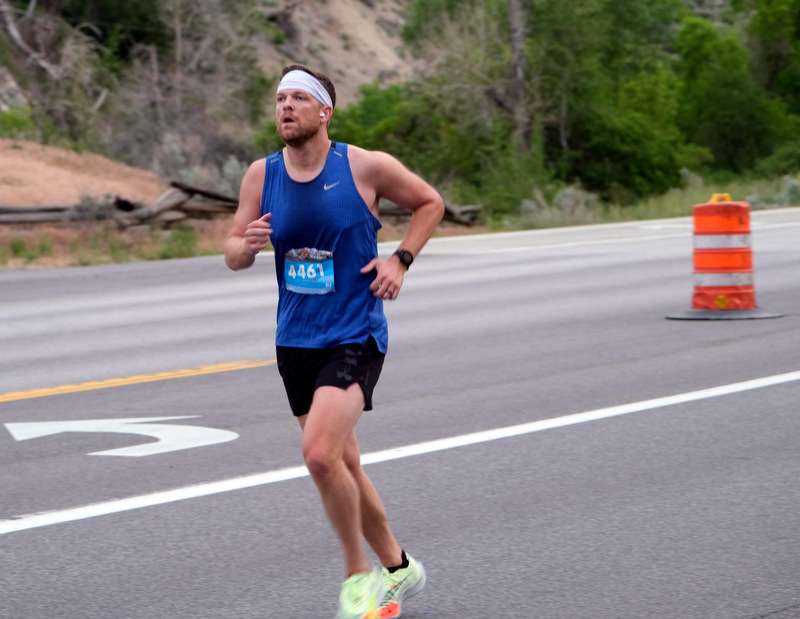 Within one year, Stablemate DJ Dorff has obliterated 13'20" from his half-Mary PB. The final 1'42" came from a spicy 1:29:54 at the Utah Valley Half-Marathon in Provo.
The hot tub-loving father of four favoured the mid-60℉ temps and light breeze on his way to placing 58th overall, in addition to scooping bronze in the M35 age cat.
The Stable News' Provo press-hound, Ally "the Chin" Smith, hunted down Dorff for a debrief:
Ally: Hi, DJ. I've brought a Nashville hot chicken sandwich from Lovebirds to help you refuel while you tell me whether or not you PB'd.
DJ: Awesome! Thanks, Ally. I ran the Salt Lake City Half-Marathon six weeks prior and got 1:31:36. So it was a PB by 1'42".
However, I ran this same race a year ago and got 1:43:14. One month later, I started working with Coach. So in one year, he helped me best my result by 13'20".
Ally: Boom! Yes, DJ! That's a solid PB and a massive chunk of time popped off in less than 12 months. How did you find the event?
DJ: I set a goal one year prior that I wanted to break 1:30. In terms of my training and fitness, I felt pretty good the few weeks leading up to the race. However, a few days before the race, my stomach was a bit upset. I'm not sure if I ate something bad, or if I was just anxious. I know I was certainly anxious because the night of the race I only slept for 90 minutes. That was unplanned.
Ally: Not good, mate.
DJ: As for the race, I wanted to take advantage of the downhill for the first half, so I was a bit ahead of schedule. With three miles to go, I was ahead, but I was really tired; I did not have a lot of energy. With one mile to go, I had lost all of my buffer and was now behind schedule to break 90 minutes. For the last quarter-mile, I had to run 5'30" pace to get below 90 minutes.
Ally: You held on well and got under, though; I could see your legs and arms pumping with power to cross the line. You must be happy with that?
DJ: On the one hand, I'm really grateful to have achieved my goal. On the other hand, I think it could have gone better, and I was actually a bit disappointed. It was not a pretty race, and I felt like I underperformed. Still, when I got down, I fought back, and I am proud to have pushed through.
Overall, I am grateful to see the hard work from the past year pay off in hitting this milestone. I'm grateful to have a healthy body that has allowed me to push myself and get faster. It's been helpful in building confidence and in navigating stress from work. My health and discipline have improved, and at the end of the day, I am a better husband and father because of this journey. To me, that makes it all worth it, regardless of how fast (or slow) I run.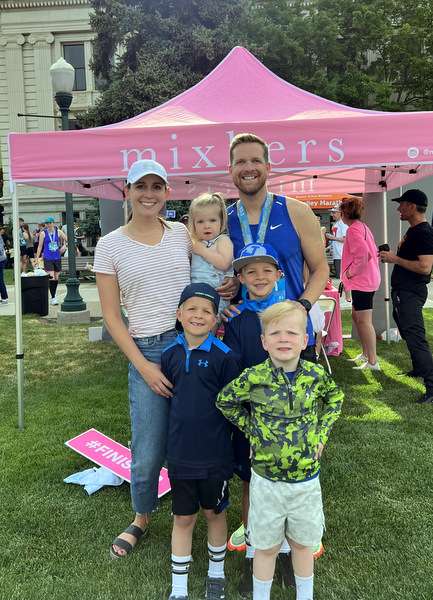 Ally : Well said, DJ. Anything else on the calendar?
DJ: I'm running the Hobble Creek Half-Marathon (Utah) in August and then the St George Marathon (also Utah) in October. I haven't run a full marathon since 2013, so pivoting my focus towards marathon training is really going to push me!
Ally: No doubt about that; just focus on one race at a time and trust the process. I'm sure I'll be back over to see you in Hobble Creek.
DJ: Thanks, Ally. And also for all the work you do reporting within The Stable—I feel truly grateful to be part of this running community.
General Puffball swung by the (auto)mobile recording studio to give Coach Stazza the skinny on Dorff's dart down to Provo:
GP: I have a notable mention for the podcast, Stazza. It's DJ Dorff's latest PR and stunning progress since joining a mere zero score and one year ago.
Stazza: Oh yes, that'll kick things off nicely. Oof! It's a bit cramped in here, and Jellybaby's elbow keeps digging into my ribs … They're the sacrifices we are willing to make to get the knowledge out there, ha-ha … A tough outing for DJ, but he pulled it together and hit his target of sub-90. This stands him in good stead for great showings in Hobble Creek and the big one in St George. Hope you enjoyed the poultry toastie I told Ally to get you.