SMYTH MOVES PRETTY FAST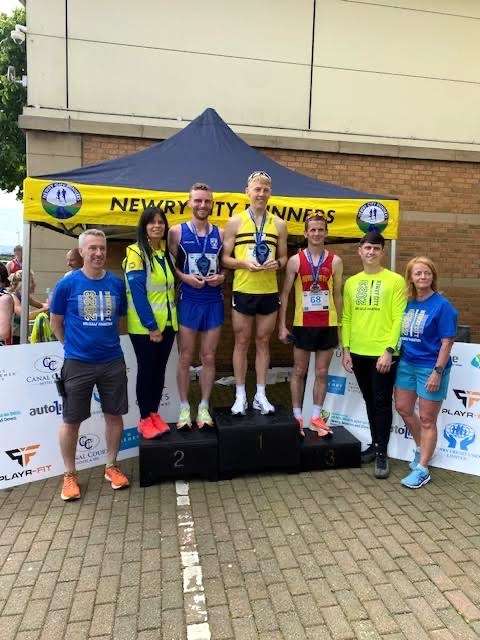 Stablemate Adam "the Blond Bombshell" Smyth was victorious at the Newry Half-Marathon, clocking a blisteringly quick 1:11:26 (in spite of a strong headwind for the final five miles).
Many would assume a 71' result would be deserving of a PB, but Smyth secured a 1:10:42 at the Omagh HM a mere seven weeks previously. Sensational!
The Stable News' hyperactive hack, Ally "the Chin" Smith, was first on the scene to hear from the Bombshell:
Ally: Winner, winner, chicken dinner! Congratulations, Adam … What in the heck happened to your leg?
Adam: Well, I walked straight into a barrier just before the gun and ended up with a nasty cut to the knee.
I was a bit concerned about the cut, but very worried about getting blood on my new white socks and shoes and wasn't 100% sure if running the race would be the best idea. I thought to myself, You complete idiot!
Anyway, I decided to carry on and make my final decision 400m up the road, at the first corner.
Ally: Hopefully, at the pace you were going, the blood dried in quick and saved the new kicks, ha-ha. Tell me more.
Adam: I settled in on my own with the lead bike and found my groove. I've been running everything to feel (sessions, races, the lot) since the London Marathon in October 2022, so had no idea what my pace was. But it felt like I was moving really well.
As soon as I hit the turnaround, I knew sub-70 wasn't to be—the headwind hit me like a slap to the face. I had a good gap on second and third, so I just chilled and enjoyed it.
Delighted to take home first and felt really strong. The kilo bag of air-fried spuds last night might have helped. 😊
Ally: Unbelievable effort, Adam. I'm sure the big bag of tatties helped fuel the final dive into that wind. And with all the training and racing to feel, it really shows you're able to adapt to the conditions. What's next for you on the race calendar?
Adam: Thanks, Ally. All roads are leading to the Antrim Coast Half-Marathon (in August), and then the Valencia Marathon (in December).
Ally: Great stuff. I'll be up at Antrim making sure the course is legit, ha-ha. See you then.
Adam: Thanks, Ally. Catch you later.
The Stablemaster was "working hard" in Mauritius, and had just finished the nicest meal he'd ever eaten (fresh tuna salami accompanied by a nice glass of New World pinot noir) when he left us this message: "The Blond Bombshell does it again … A magnificent display of racing … Taking it on from the gun and pacing accordingly through the wind … Excellent stuff … Good man!"