SMYTH SETS ANTRIM ALIGHT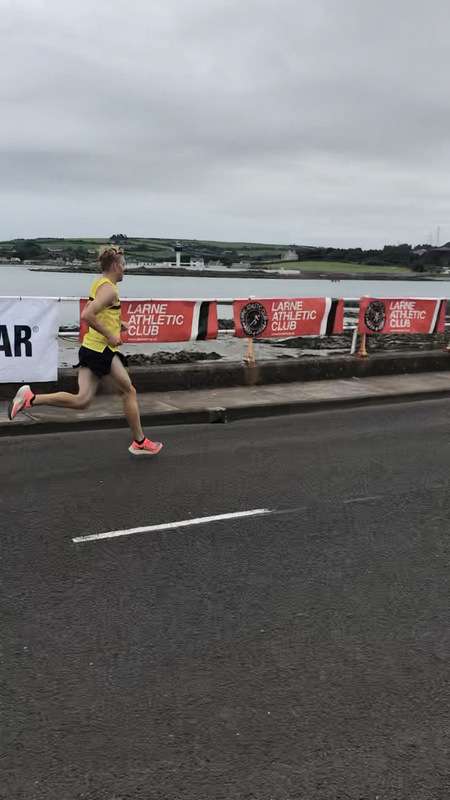 Blond bombshell Adam Smyth had the run of his life at the P&O Antrim Coast Half-Marathon. A gobsmackingly good 1:11:53 took over 14 minutes off his previous best, set at the Belfast City Half in 2018.
The conditions for racing were as perfect as his tousled locks: 15℃ and overcast, with a slight headwind on departure, and every runner's dream (a tailwind) bringing him home. Moreover, Smyth took 32nd spot in the mass race, his time, incidentally, bettering some of the élite field. That said, world record-breaking Yalemzerf Yehualaw was slightly up the road (63:43). 😲
An ex-competitive exerciser (CrossFit), Smyth found his love for running only three years ago and has been coming on by leaps and bounds since joining The Stable in March of this year.
Having never formally met, The Stable News sent his fourth cousin twice removed Ally "the Chin" Smith to snaffle some snippets from "Cousin" Smyth:
Ally: Adam! Adam? It's me, your long-lost cousin Ally, reporting for The Stable News. It's so good to finally meet you! You looked super strong crossing the line. Tell me all about it.
Adam: Yeah, nice to meet you, Ally. I didn't know we were related. Well, this was my first half-marathon race since Belfast in 2018, when I ran my PB at the time of 1:26, so I'm over the moon to beat that by almost 15 minutes. Coach Stazza knows his stuff; I also sent him a picture of a glass of red wine, and he gave me a right schooling on that as well!
Ally: Aye, he knows a thing or two about running and even more about red wine, 🍷🤣but on anything else, he's a numpty. He can't even pronounce pronunciation properly, hahaha. Anyway, get to the juicy details.
Adam: Well, first off it's a fantastic race—brilliant route and fast course. I settled with a great group of around five others for about 10 miles, then soloed to home. Really enjoyed the aspect of racing with others and working together. Recommend the race to anyone that wants a fast half and beautiful scenery to go along with it.
Ally: Aye, they're no' shy with advertising how quick a course it is.
Adam: Well, they need to attract the big guns! It was pretty cool to be in the same race as a female WR. Oh, remember the 10K I did in July? Well, I managed to hold the pace from that race here—chuffed about that!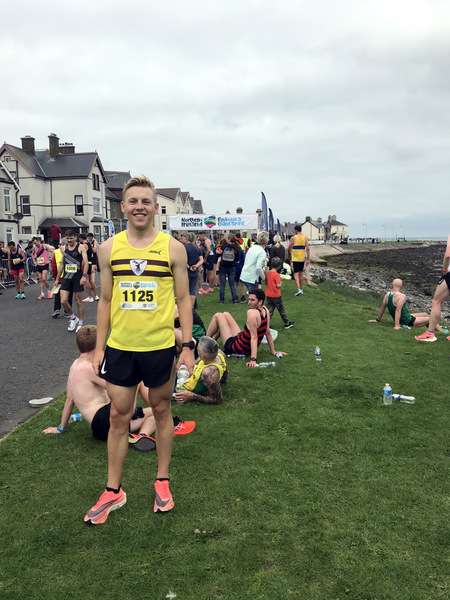 Ally: Oh aye, I mind reading something about a "didn't feel harder than a strong tempo" description for that run. You were certainly telling the truth there, ma man; an amazing race for you today. Or, as I'd say in ma native tongue, "AWFA GID!" Any other big PB races planned, pal?
Adam: Ha! Cheers, Ally. I need to speak to Coach Stazza about this and hopefully get something pencilled in. I'm planning a marathon in 2022 so want to knock some time off my 10-mile/half-marathon between now and a marathon build!
Ally: Sounds like you've got it sussed. Can't wait to see what Coach Stazza cooks up for you!
Since meeting his distant cousin, Ally had been pinging him with constant WhatsApp messages, but Adam is a busy boy and has only replied once with, "It's Tuesday and my legs are very sore!!" Take the hint, Ally!
Coach "Where's my passport?" Stazza was quick to notice young Adam's magnificent run—he had it up on a Strava post before Ally even got to the finish line:
"YOUNG [sic] pup, [sic] Adam Smyth, [sic] stole the show at this morning's Antrim HM, running a humongous 15-minute[ish] PB (71:55).
The blond bombshell (a cross between an Andrex-soft, [sic] Labrador Retriever [sic] with googly eyes and a ferocious tiger) smashed up the Antrim course today to make Yalemzerf Yehualaw's world best [sic] look mediocre.
I'm sure The Stable News' 'cub' reporter, Ally 'the Chin' Smith [sic] (with an 'i'), [sic] is there right now, wiping Adam's fevered brow with Andrex toilet paper and bestowing deserved praise on the young fella. What a great run."