SONG OF THE ULTRASONOGRAPHER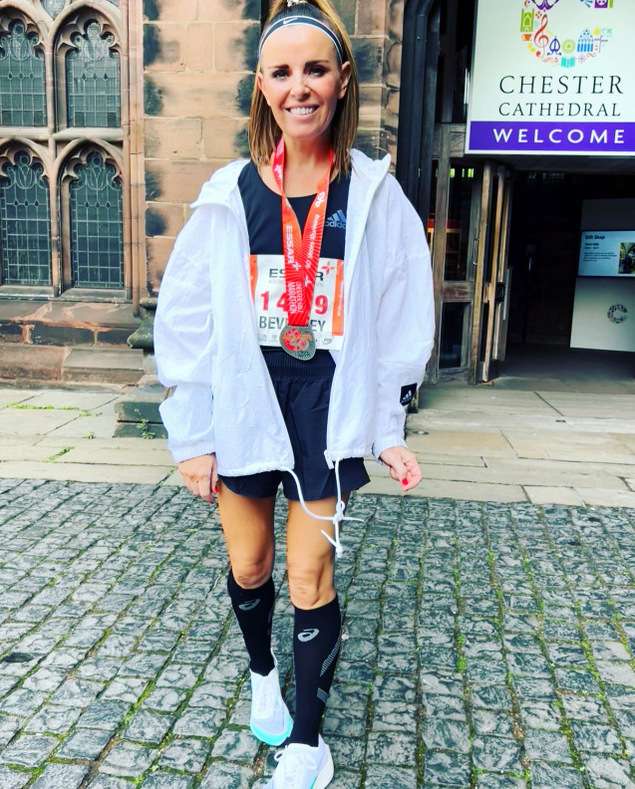 Stazza's Angel Beverley Willis smashed eight minutes off her six-year-old best at the Chester Half-Marathon. Willis placed 10th/268 W40, 63rd/1,648 women and 413th/3,899 overall en route to a cracking, 1:36:34 clocking.
A mild mixture of cloud and sun was the order of the day for the chocolate-loving mother of four. Perfect conditions for the giant, 4.5kg Toblerone she left in the car—chomp!
Willis told The Stable News: "Really enjoyed it! I felt good throughout the whole race. Main goal was to beat the school dads, which I did!"
The News discovered Coach Stazza and "the Chin" choreographing an intricate pat-a-cake (like a Riverdance of the hands) to accompany Maestro Kurt Olsen's introduction music for The Stablemaster Speaks:
AS: No, you go left hand down, right hand up as I do the opposite, then we hit together three times before doing the one-legged-arm-wrestle-tap-your-partner's-foot-thricely move.
CS: Ah, I see. I thought we could add some popping and locking in after that.
AS: Great ideas, but we better get this bit first.
Clap, Clap!
Clap, Clap, Clap!
Slap, Slap, Slap!
CS: Yes! We did it! Time for a break … We can chat about Bev Willis's excellent return to the half after more than half a decade! An outstanding run from the Merseyside lass.
AS: Och, aye was it. She's only been in The Stable five months, and what a way to celebrate. A massive PR! Well done, Bev!
CS: And I heard she has a ginormous bar of pointy Swiss chocolate, so we might have to pay her a special, celebratory visit to help dispense of a wedge or two.
AS: That sounds like a plan! But back to the pat-a-cake for now, ha!
Willis has another half-marathon lined up in Southport (June time); then it's on to a major marathon, in Berlin, this September.