SOUL MOUNTAIN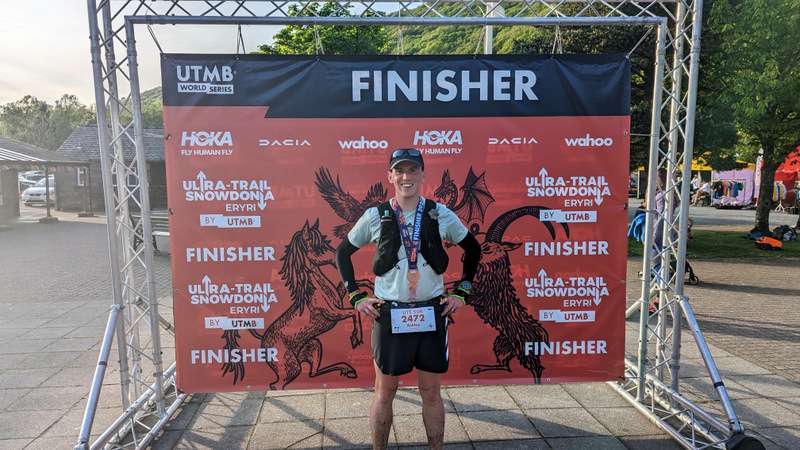 Stablemate Ashley "Choo-Choo" Holbrook commenced his ultrarunning career with a baptism of fire by taking on the Ultra-Trail Snowdonia 55K!
Ash battled scorching heat of 20℃ on race day. (Three weeks prior—on a six-hour recce—it was –10℃ on the summit of Snowdon.) The ex-Royal Marines commando crossed the line after a torturous 11 hours and five minutes, placing 416th of 1,126 and 124th in his age category.
Holbrook (usually seen piloting a locomotive for any distance over 50 kilometres) enlisted the help of fellow Stablemate and ultra nutter Mark Cox for some wise words and motivation: "Just keep putting one foot in front of the other," or something to that effect; you know what ultrarunners are like.
The Stable News' ultra boy-wonder, Ally "the Chin" Smith, found Holbrook (at this point a shadow of his former self) writhing in pain at the finish line and was straight on the case to get the scoop:
Ally: Hee-hee. How's it going, Ash? Here: shove some of these Smiths Salt 'n' Shake crisps down your gullet and tell me all about these Snowdonian shenanigans.
Ash: Cheers, Ally. Throw me over a couple of salt tablets to be on the safe side.
Firstly, it was a pleasant start to the day, as I met the legendary Mark Cox. We'd exchanged a few messages in the build-up, where I attempted to pick his brains.
(Here come the excuses.) I took a heavy fall early on, which set the tone. My quads began to cramp early on, which hung around for the remaining nine hours.
Before I even got to halfway, I texted my wife and said I was going to get to the second aid station and pull the plug and quit.
I reached the aid station fully intending to hand my number in, but instead found my former Royal Marines military training kicking in and having some stern words with myself.
I had to accept that today wasn't going to be about running ability, but just pure grit to just get to the finish.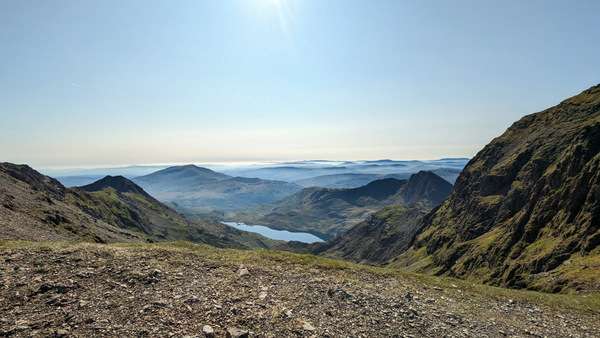 I (somehow) managed to make up over 100 places in the second half of the race, and in the final 5km, I channelled my inner Jim Walmsley as I bounced along the trail picking more and more people off.
If there's one positive to take away from the day, it was that I finished strongly.
Ally: Oof, a tough day at the office, ol' boy. But now you know you have the ultrarunner mentality to keep going. I think Coxy said that's his favourite part—just running like a zombie to the end, ha-ha.
Ash: Ha-ha, yeah, he did mention that.
Ally: Aye, this ultra business is mental. Hahaha. But I'd say this outing was a rip-roaring success, as you've learned many lessons to take into the next one. Which is?
Ash: The Lakeland 50-miler at the end of July. The course is touted as being a bit more "runnable" than UTS, so I'm hoping to take my experiences from this weekend and hope for a better day out.
Ally: Good man, Ash. I'll see you then.
Ash: Thanks, Ally.
The Stablemaster aka "the Fat Controller" was giving his model train collection a final journey before locking it all away (so Jellybaby and the kids don't touch it), when General Puffball's nasally tones came over the Tannoy:
"Would The Stablemaster please go to the control room … Stablemaster to the control room. Thank you."
"How in Zeus' name did you get access to my Tannoy system? You never cease to amaze me, General, just like Mr Holbrook diving into the tough-as-nails Ultra-Trail Snowdonia as a cherry popper! He went through the lot … Falls … Cramps … Dark thoughts … Ready to quit! But he rallied himself and passed plenty on the path to a solid finish … CHOO CHOO!"