KING KIPTOO DROPS A 2:12:28 AT THE NAIROBI MARATHON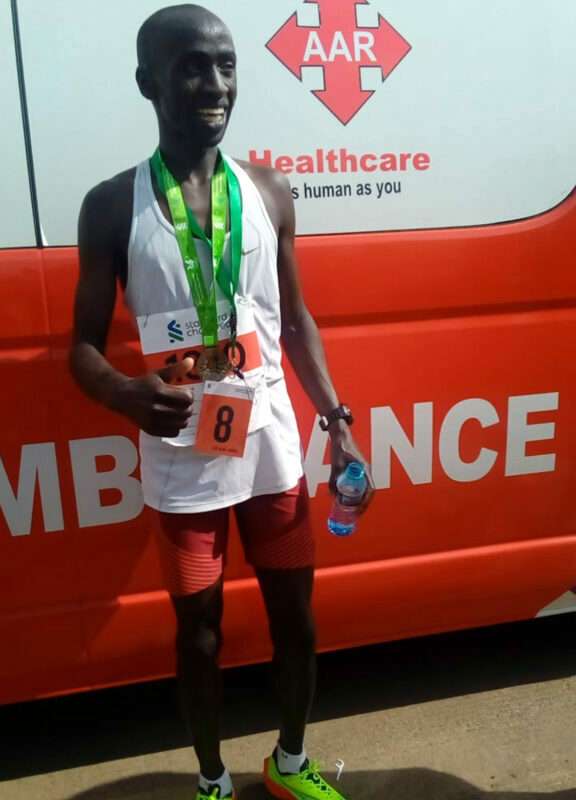 EDWIN CLAIMS EIGHTH IN NAIROBI MARATHON
Stablemate Edwin "King" Kiptoo blasted his 26.2 mile PR at the Nairobi Marathon (elevation: 6,000ft) to finish eighth in 2:12:28 (3'30" PB). Edwin's run equates to a 2:08:28 on a sea-level course.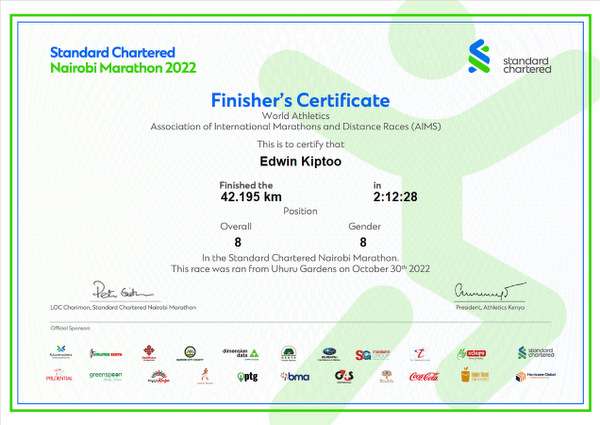 In a stacked field (63 entrants went sub-2:20 and 97 sub-2:26), Edwin delivered on an excellent block of training. In the latest episode of the Stablemaster Speaks podcast (out Wednesday, November 2), we'll look at Edwin's preparation for the race.
SAMUEL KNOCKS PB FOR SIX AND GOES SUB-3
US Marine Corps officer Samuel Ubersax gave his full 'thon PB a major revision at last Sunday's Marine Corps Marathon, snaffling a sub-3 clocking with a 2:58:41.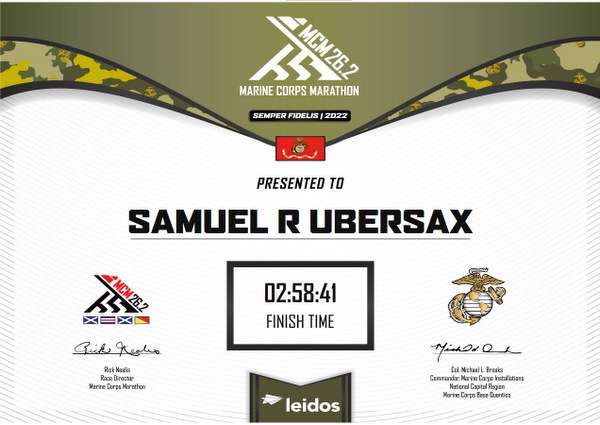 Dashingly handsome Ubersax was overjoyed with his stunning run (a 6' PB). He told The Stable News: "All the hard work paid off! It was such a glorious feeling—passed so many people after 20! I was really competing out there."
The former tennis prodigy will take a short break before returning to duties in Japan.
An officer and a gentleman, Ubersax is due to lace 'em up again in December; he'll go in the Hofu Yomiuri Marathon. Originally, this was his backup race, but now it'll serve as a celebration …
RICHARD JAMES POPS HIS MARA' CHERRY IN FRANKFURT
In his inaugural expedition over 26.2 miles, Stablemate Richard James went 2:53:45 at the Frankfurt Marathon.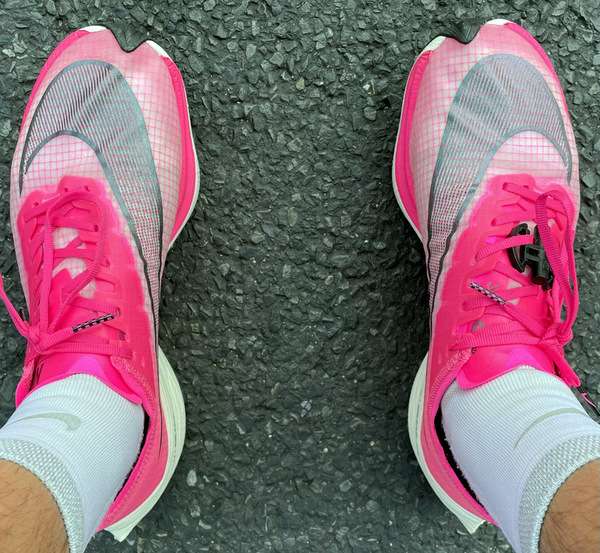 Posh lad James recently returned from Kenya, where he attended and passed—with aplomb—the Coaching the Coaches course, which The Stablemaster runs from his HQ in Iten.
Coach James will head back to the Rift Valley in January, where he'll spend two months working with Coach John Ewoi (one of Kenya's top gurus). After his two-month spell there, James will fly to Uganda, where he'll spend four weeks working with some of the pearl of Africa's up-and-coming distance talents.
PITCH PERFECT AISLING FITZGERALD HITS THE RIGHT NOTE IN TRALEE
Stablemate and music teacher Aisling Fitzgerald grabbed silver on Sunday in the Tralee Half-Marathon. In her first half-Mary, she banged out a 1:28:56.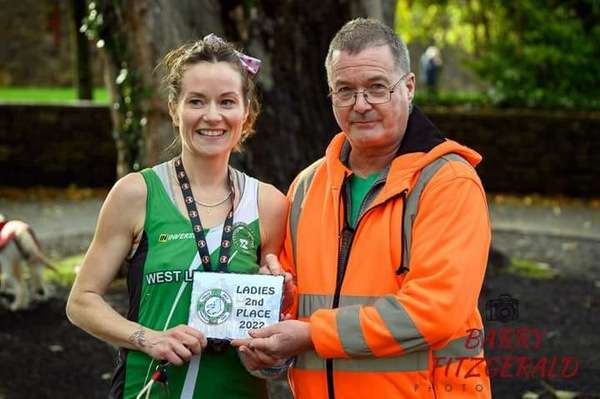 "Fast" Fitzgerald, who had her sights on a 1:30 début, was delighted with the run. She told The Stable News: "Thanks a mill, John. I'm really happy with that."
Fitzgerald has just finished four months on the Stazza Super Base and will now transition to 10K "bridge work" in preparation for some more fast finishes next year.
STABLEMATES RUN RIOT IN DCM
It was another great Dublin Marathon for Stazza's Stable, with rucks of PBs and sub-3hr runs.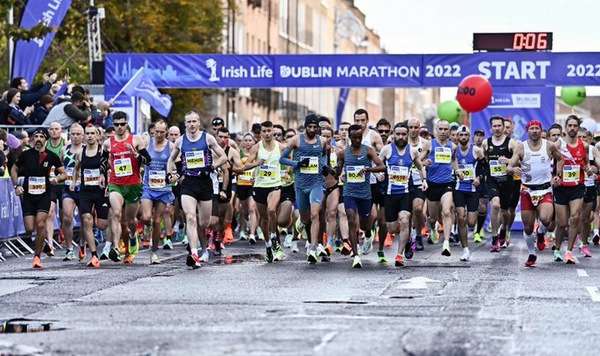 Unfortunately, we had a good few people fall ill prior to the event, which meant our ranks were thinned out at the last minute. But check out these results!
Sub-3hrs and PBs:
Dave Greene—2:41:27 (1'13" PB)
Kieran Sherlock—2:43:54 (4'14" PB)
Tadhg Crowley—2:53:35 (Début)
Kevin Curran—2:54:11
Liam O'Connor—2:54:59 (Début)
Anthony O'Shea—2:57:11
Derek Ahern—2:58:17 (1'16" PB)
Stephen Rooney—2:58:53
Tricia McLoughlin—3:01:23 (6' PB)
Padraig Keane—3:05 (15' PB)
Barry McKeon—3:06:57 (11' PB)
Dave Mullins—3:18:13 (4' PB)
Ciara Magner—3:18:30 (2'36" PB)
Aidan Fitzsimons—3:38:33 (5' PB)
Brenda Canty—3:40:21 (18' PB)
Fran Hanlon—3:56:42 (6' PB)
AND IT'S NOT OVER YET
So far, over the autumn, we've had 86 Stablemates race marathons and/or half-marathons, and they've walked away with 73 PBs. To date, the standout performances are Mike Williams' 2:59:42 marathon (a 1hr+ PB) and Edwin's 2:12 in Nairobi.
We've still got Stablemates to go in New York, California International Marathon (CIM), Málaga, and Valencia. Of particular note, legendary Stablemate Riley Cook will tackle CIM, where he'll chase a US Olympic Marathon Trials qualifying time.
THE PODCAST
We recorded the latest episode of the podcast yesterday; it'll première on Wednesday. We cover all the Stable news and gossip, look at Kate Drew's incredible year (and what's up next for her), and deliver the skinny on Edwin's brilliant block.