STEACY SUMS IT UP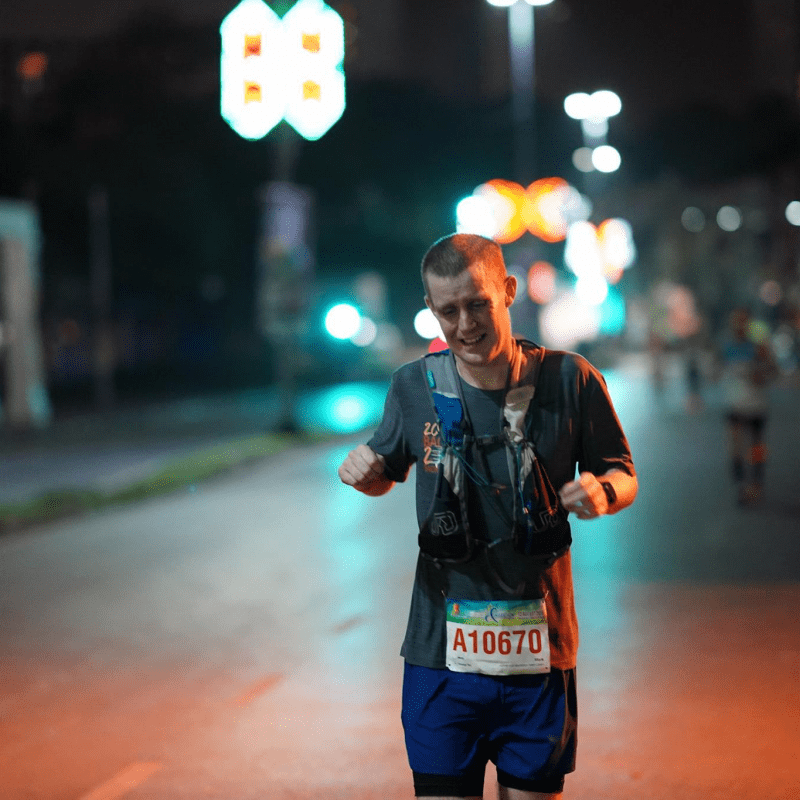 Stablemate and math(s) teacher, Mark Sums Steacy delivered yet another humungous PB at the Angkor Wat half marathon. Steacy slashed nine minutes off his previous PB, dropping out a cheeky little 1:23. 
Mark started the year off battling a knee issue. After a few chats with Coach Stazza they sussed out that Mark needed to change his brand of shoes. Immediately, the shoe change worked and the knee pain abated. Also, they developed a comprehensive strength and conditioning schedule to reduce the risk of future flare-ups. The combination of the shoe change and the strength work did the job.
Coach Stazza said: "We worked out Mark needed to change his shoes. Overnight, we saw the results. Mark suggested some progressions to his strength and conditioning work to help reduce the risk of flare-ups and these definitely helped, especially for the ultras."
Over the course of this year, Mark has made incredible gains. On the 7th July, he ran a seven- minute PB in the CAT marathon. Then, he reduced his marathon PB further, running a 20-minute PB in the Kuching marathon on the 18th August. By August, it was clear that Mark's new bionic knee could withstand anything. He went on to win the Won Universiti Malaysia Sarawak (UNIMAS) 12hr race, running farther than anyone else in the 12 hours and setting a course record. Finally, he rounded off the year with a stunning nine-minute PB over the half.
When asked about the mix of half marathons, marathons, and a few ultras, Coach Stazza said: "Mark picked out the races and his selection proved perfect. Nearly all ultra runners get this wrong. They either don't race enough or over race. Mark's year was perfectly balanced and, along with progressively structured training, this has led to his awesome results and improvement. Most decent ultra runners have a few good races and then disappear with chronic fatigue or injuries; Mark will continue his progression and for many years, will be a force on the ultra scene—he has all the necessary tools and more importantly, unlike most ultra runners, he knows how to use them."