STELLA(R) PERFORMANCE(S) AT NEW YORK MARATHON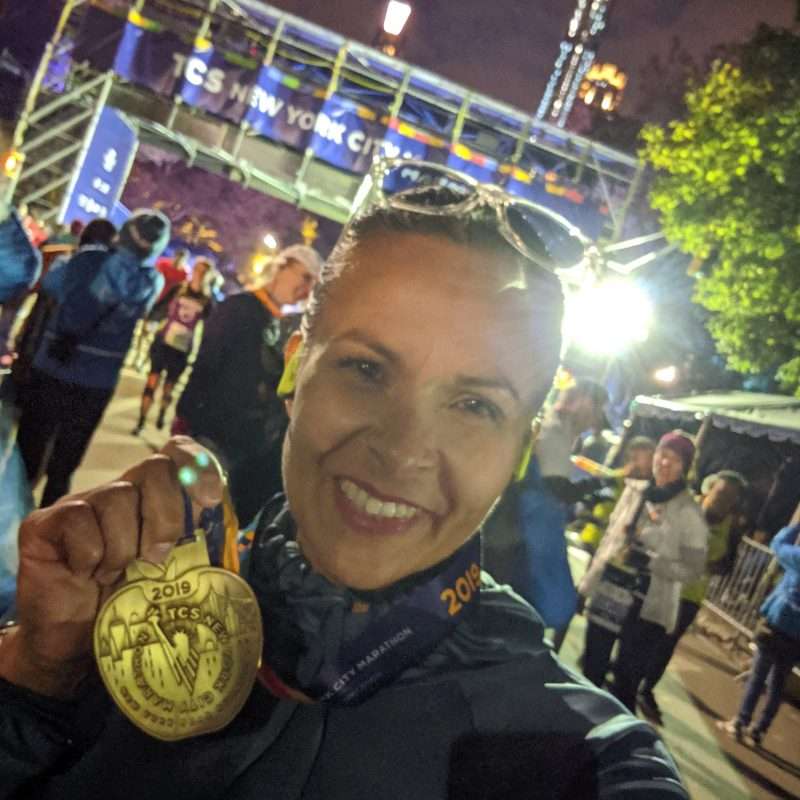 Stablemate, Stella Inserra, delivered the stellar performance at the New York City marathon last weekend with a one-hr 19-minute PB.
Super nova, Stella dropped her marathon PB from 7:48:44 down to 6:29:26.
Delighted Stella told The Stable News: "Today I am feeling a bit sore in my legs but not in a debilitating way.  It is a good sore. I look forward to getting back to training and a sub five-hour goal for next year's NYC Marathon."
We managed to catch up with Coach Stazza and he told us: "Stella's improvement is mindboggling. To take one-hr 19 minutes off your marathon PB in just seven months is, by any standards, some going. Next year, we'll take over 90 minutes off Stella's PB and her down under five hours."
Superstar Stella wasn't the only Stablemate to drop out a great performance. Social media 'A-lister', Marcus Brown, banged out yet another PB. Marcus ran 3:00:19, lowering his PB from four weeks earlier at Berlin by 48 seconds. At next year's Manchester marathon, Marcus will launch a serious assault on a substantial sub 3hr PB.
Globetrotting Stablemate, Andrew Blake, also had a great day in New York. At the end of August, Andrew joined Stazza's Stable (he was on his way back from a stress fracture) with a view to running a PB at London 2020.
Andrew ran New York as a training run (by feel) and dropped out a cheeky little 2:54:01.
Andrew told The Stable News: "…must say aside from Tokyo that was the best I've felt in a marathon. Even up to 35k at any point, I could have upped the pace if needed and never not on the limit as it were. Guess just those few minutes easier on first-half allowed for that. Really happy with the negative split and fastest 2 miles being the last two. Looking forward to working towards Osaka now. No trips away planned, so should be able to focus better and the cooler weather in HK will help."
He's running the Osaka marathon on Sunday 1st December, as another training run (and another jolly—Andrew likes his air miles).
We also had another strong performance with Randall Adams. Plagued in the early stages of his build-up with chondromalacia, Randall struggled to get in any decent training. But after diagnosing his injury and taking the appropriate action, he was able to put together four weeks of work just before New York. He managed to run an astonishing 2:43.
Randall told The Stable News: "I ran nearly as good as I could. The start was a bit rough because I underestimated the slowness of the runners in front of me…lots of weaving for the first eight miles!…it did feel great  at the end, I was passing lots of runners."
After a short break, Randall will get stuck into his Boston 2020 build-up where he'll join several Stablemates, looking for fast times. Randall's looking to push on for a 2:35.
Coach Stazza told The Stable News: "If we can keep on top of Randall's chondromalacia, he might just sneak under 2:30—weather permitting."