SUPER COP TRACKS DOWN A PB IN CASTLEISLAND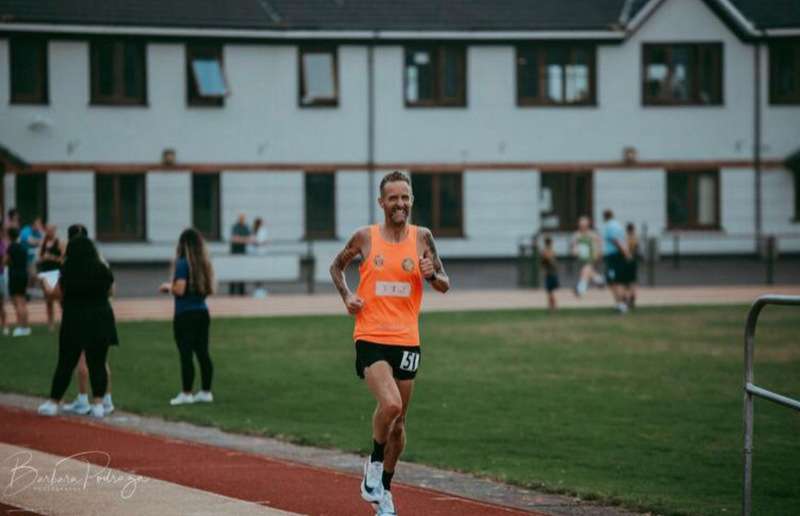 Long-suffering Stablemate Ollie "Super Cop" O'Sullivan has had Coach Stazza in his ear a lot longer than most of us, and this time it's driven him—no, not crazy—to yet another PB! Ollie cuffed 42 seconds off his 5000m best at a Coillte 5K in Castleisland, Co Kerry. He wrestled his way to 15th/87, arrested a second place M45, and locked up an incredible time of 18:39.
Since joining The Stable way back in 2017, Ollie has had PB after PB, and he's not shy in letting people know the secret to his success. The Stable News team was lucky enough to hear it:
SN: How's it going, Ollie? Your answers may be used as evidence for The Stable News! Tell us all about it, then.
OO': Haven't heard that one before. 🙄 It was my first race since my half-marathon PB two months ago and my first 5K in a few years. I got the pre-race chat from The Stablemaster. Usual tactics: he told me to get a PB, or he wasn't meeting me for coffee, buns, and ice cream the following day. That's the problem when you live in the same "city" 😊 as Stazza. He can always find you for a chat.
SN: That must be torture: everyone needs a bit of space from The Stablemaster—even Jellybaby sent him to Spain for some peace and quiet! Right, get to the nitty gritty.
OO': Ye, ye. Anyways, the first kilometre was slightly downhill, and I was at a 3:35/km pace. I felt good, all things considered. During the second km, the race field started to stretch out a bit, and people were dropping off the pace big time. I managed to hold things together and was at 3:40 pace.
SN: Only a five-second drop-off. That's great, buddy; you must've been hurting?
OO': I was sucking diesel for sure! Now, the next two km were on the incline, so I knew it was make or break if I was going to PB. Usually, I'd start to take it easy, to leave a bit in reserve, but I just kept thinking in my head, Stazza told me I had to put in good work! Go for it! The third km was 3:47; then came the dreaded, uphill fourth km of this course. I was struggling but running at the same effort uphill. I was 3:56 for the fourth but was really feeling the effect of the effort. 
SN: I'm feeling dizzy just hearing about it! 3:35, 3:40, 3:47, 3:56: there's some sort of Fibonacci sequence in there. Where's my abacus? Well, how'd the last K go?
OO': Ha-ha, well with one km left, it was now or never. I knew I was going to PB, but I wanted to go sub-19 in a race. 😊😊 The race was finishing on a running track. I was so excited, so as I approached the complex, I was really starting to pick up momentum. I could see the race clock at the finish line as I entered the track, and I knew I had done it. I gave it everything in the final 200 metres and came in at 18:39—a 42'' race PB. I was absolutely thrilled. 
SN: Bloody hell, Ollie, that's a thrilling conclusion. Very well done. Anything else you'd like to add?
OO': Just the one. Genuinely, folks, I listen to what Stazza has to say. I very rarely race, but when I do, the results are nearly always positive. His phone is always on, and he's always available for advice. Believe in the training, folks, and take your time—the results ALWAYS HAPPEN!
SN: A devoted Stablemate who's always being heard. When will you be racing again to put the training to the test?
OO': Well, I say I very rarely race, but the next one is a 10K in Galway Bay on October 2, and yes, I will PB. 😉
The Stable News pinned down Ally "Slugger" Smith, who was wrapping his hands for a secret session with a boxing legend—the Celtic Warrior himself, Steve Collins: "Coach Stazza just thinks I get into brawls and my footwork is shocking! I'll show him; me old pal Steve is gonna give me some pointers, and the next time we spar the old man will need Super Cop O'Sullivan and his Garda pals to pull me off him, HA HA HA HAAAA! Aye, before that comes to pass, Ollie is a stand-up guy and running 18:39 on his Bambiesque old man legs is a miracle in and of itself. Coach Stazza really is a divine being. Well done, Ollie, and good luck in Galway."
Going all Rocky IV with his training, Coach Stazza was splitting logs with an axe as long as he is tall (so, not very): "ARGH! ARGH! I don't need to sharpen my skills to batter Ally again. Simply getting some good general 'dad strength' will be enough to give him a good pasting. I'll get Ollie to do my corner. He'll enjoy watching Ally suffer after those comments. Excellent race, my boy. Those legs of yours are like a Kenyan's—wiry, but strong and powerful. I expect good things again in Galway, or I might pay you a visit with my axe, ha-ha."