TADHG PAINTS A PRETTY PB IN DONERAILE PARK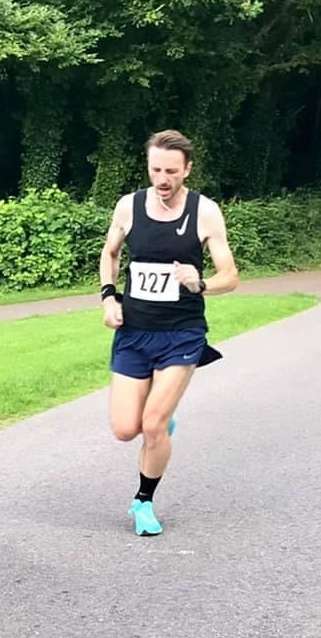 Stablemate Tadhg "the Curator" Crowley cleaved a considerable chunk off his PB at the North Cork AC Pat O'Keefe Memorial 5K in Doneraile Park. In running 17:30, Crowley chopped a massive 1' 14'' from his previous race PB, which he set in January 2020.
The Curator kept his cool on a scorcher of a summer's evening and knew that, as long as he made it around the course in one piece, he was on for a PB. Racing a pool deep with talent, he placed 12th.
The Stable News sent our own little Banksy, Ally "Cognoscente" Smith, to speak with Crowley after the race:
AS: Holy moly, Tadhdg; you were flying there! How'd you think it went?
TC: Feckin' brilliant! I knew the course was part trail, but it wasn't until I did a bit of recce during the warm-up that I realized it wasn't designed for fast racing! So I decided to not worry about time. I just tried to pick runners off and move through the field—and it was great fun. Of course, you'd always like to go faster, finish higher up, etc., but it was a pleasure just to be out racing again.
AS: Amazing, pal! It's about time we had a happy hobby jogger. Really chuffed for you, pal. And bagging a big PB when you're not worried about the time is even better. Now let's get a beer and talk about Impressionism. 🙂
Answering his phone with his nose (now that both his wrists are incapacitated), Coach Stazza had this to say about young Crowley: "Brilliant race, Tadhg! You ran like a true racer, not worrying about a time and just getting after it! Well done, son."
Tadhg is busy banking his training for his main race this year: "Fingers crossed that races continue to happen. The main focus is the Charleville half-marathon at the end of September, and we'll be going hell for leather at that—can't wait! Before then, we might sneak in a race in August, if The Coach allows."