TAKING CARE OF BUSINESS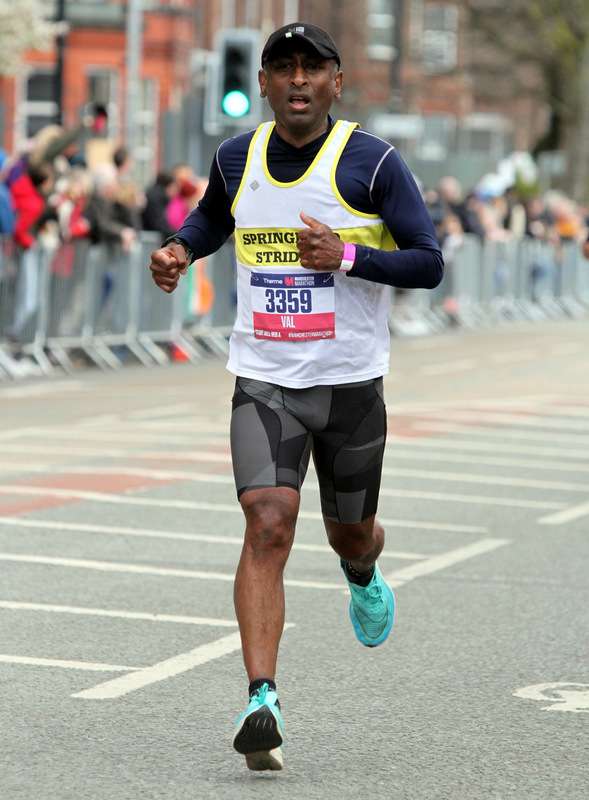 Spanking new Stablemate Val "the Gov'nor" Govender smashed an incredible 19'04" off his lifetime best at the Manchester Marathon with an excellent 2:56:59—at 54 years of age, no less. Get in, Govender!
The twoscore-and-12-years-young medical rep just kept running (like his cinematic icon Forrest Gump) until he passed the post 953rd/14,184 overall and 40th/930 M50.
Awaiting his fate at the back of his wave, Govender gazed at the masses ahead. A cool breeze washed over him and goosebumps rose as he stood in anticipation … Bang! … And they were off.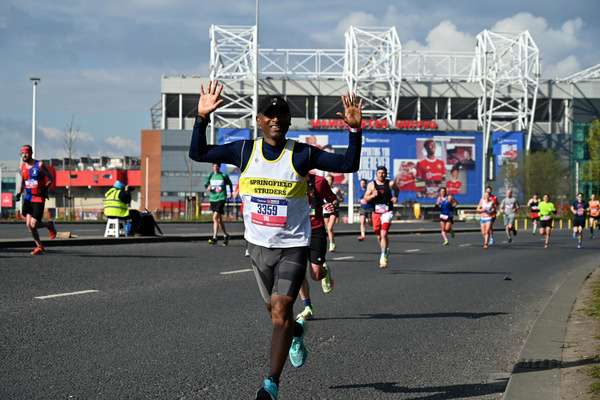 The Stable News' man of letters, Ally "the Chin" Smith, had just sent "Gorgeous" Karl Gloster on his way when he saw the Gov'nor charging home:
AS: How's it goin', Gov'? A super run today, bud. How'd you like it?
VG: Started easy and worked my way into the race, catching up with the sub-3 hour pacer around mile twelve.
At 20, I picked up the pace, leaving the pacer's group behind. However, a bad cramp in the upper calf (under the knee on the left side, at mile 23) really hampered my progress.
Picked it up again at mile 25 and managed a nice kick at the end.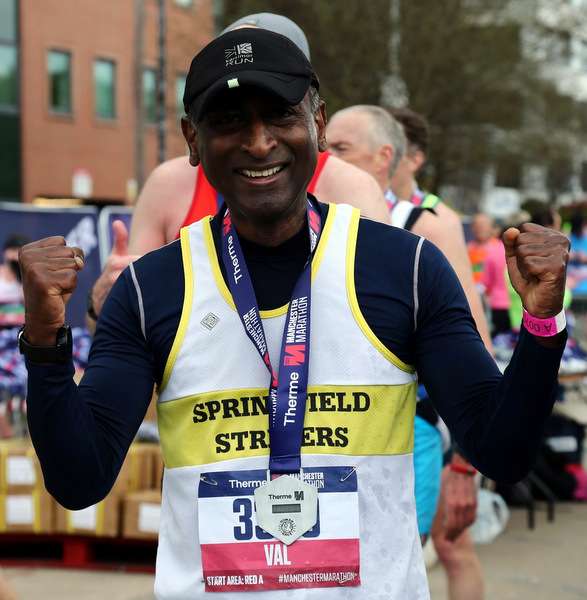 Overall, the race was really enjoyable, and I felt I managed it well. Not impressed with the road surface, though, and I would be hard-pressed to do this race again.
AS: Yeah, Manchester City Council should get their finger out and sort out their potholes. If Rob Calhoun ran this race, he'd have plummeted to his death, ha-ha.
Anyway, glad you got round in one piece. Sub-3-ing and a near-as-makes-no-difference PB of 20 minutes.
Anything else planned?
GV: Only my club's five mile race on June 24. Nothing else booked as I begin the journey with Coach Stazza.
AS: Nice one, Gov'. I'll away and chase up more Stablemates and see you after.
GV: Sounds good. Cheers, Ally.
The News tracked down Coach Stazza at the Circus School of Ireland, up in Cork. As he balanced on a 10-foot tall unicycle, juggling bowling pins, he said: "Oh hey, yep, I've got this thing. Ooo .. OK … Instead of a cycling proficiency course, Jellybaby thought it would be a good idea for me to get my balance on one wheel instead of two! So here we are … Plus, she is always saying I'm a clown, hahaha!
Oof … Nearly lost it there … Erm, yeah, Val the Gov'nor … What a superb run, building slowly from the start and gaining as he went and blasting below three hours … Superb … I'm sure my mate Lenny McLean won't mind the pinching of the nickname … Or will he? I better 'drop him a line' to smooth things over. Well done, Gov'; I'm off to convene a séance with the Guv'nor, ha-ha."