THE BEST WAY TO RUN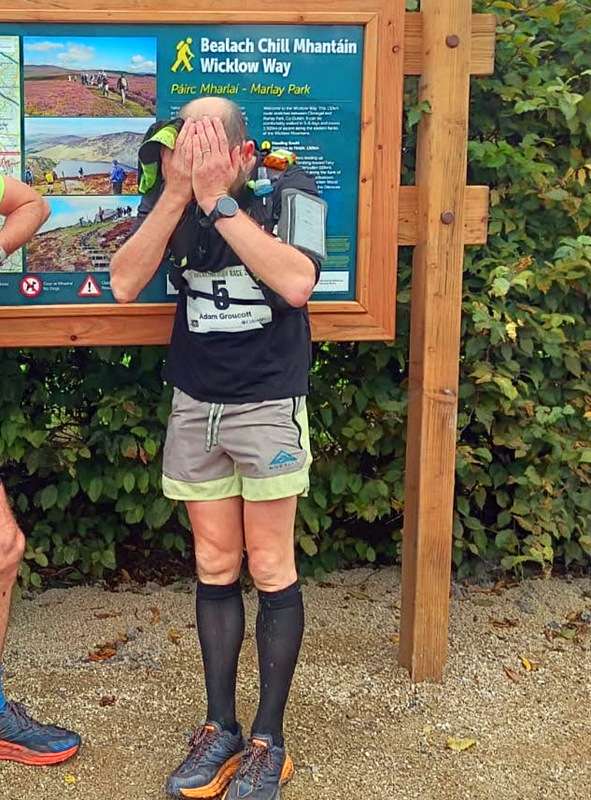 Kiwi Stablemate Adam Groucott took on his second ultra in as many months with a stonkingly spectacular third-place finish at the Wicklow Way Race. Starting in the village of Clonegal, Co Carlow at 8pm, he completed the 127K (his longest run in Strava!), with 4,500m vert, to Marlay Park in Dublin, in just over 15 hours.
Groucott was given a perfect night for running in his jammies: "Not a puff of wind or drop of rain," which was especially good, as he wouldn't want his favourite Frodo Baggins teddy getting wrecked.
The Stable News' ultra fanatic, Ally "the Chin" Smith, sat down with Groucott for a man-to-man chat—albeit with a horrible take on the Kiwi lad's accent:
Ally: A'right, bro! A've just been waiting for you, ay. What's the stats on this run, then, ay?
Adam: I knew my second-placed debut was a fluke, as I crashed to third equal. It's all downhill from here.
Ally: Yeah, nah! That'll be right; you've got this ultra malarky sussed, ay. Nah point in asking about PBs with this ultra stuff, as they're all so different.
Adam: Well, Strava reckons I ran a marathon PB, but I've never actually run a "marathon," so I am not counting it. It was the longest I have ever run; that was nice. 
Ally: Sweet as, bro! Yer looking keen to tell me more, ay. Get to it!
Adam: Jeez! Can you quit it with the accent? It's getting a bit dodgy, ha-ha. Right-o! I had no real expectations; I just wanted the experience and the UTMB points. Sadly, I ended up at the pointy end early on, and it was dark, and I didn't want to get lost. I had to accept that I was in a race and use the fellows at the front for guidance.
The first 80km was easy, which is a perverse thing to say after running back-to-back marathons. It got a bit tougher with blisters, sleep deprivation, and general misery. Nothing for it though but to grit the teeth and stuff another Snickers bar into the face and hold on to the finish.
Marley Park soon arrived, 15-odd hours after departure—a good 11 hours of that watched over by the night. Myself and Lonan, who I had been running with/stalking so I didn't get lost, decided to cross the line together, which seemed sporting at the time. But on reflection, I should have taken him with a sprint finish. Oh well.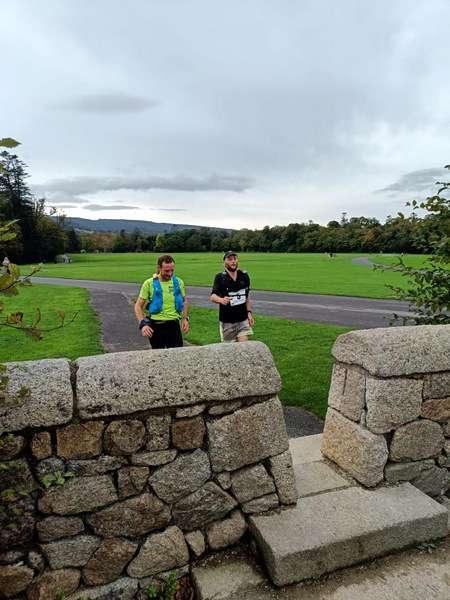 Ally: HAHAHA! I knew you'd regret that! Sportsmanship is all fine and well once you've beaten the guy to a pulp. You'll know for next time—NO MERCY! Outstanding effort, mate. Away and get a few stubbies down ye for rehydration. Anything mental planned soon?
Adam: Nah, nah! I'll be drinking beer, eating ice cream, and waiting for my big toenail to grow back. Hopefully, the Lavaredo Ultra Trail in the Dolomites in June.
Ally: Sounds spot on, mate. I've heard ice cream and beer are good for nail regrowth, ha. Catch up soon.
Basking in the brightness of his new teeth, Coach Stazza was looking even smugger than usual (perish the thought) as he FaceTimed in to the Stable News office: "I hope you have your brightness turned down, General. These things give me a tan anytime I look in the mirror; I love 'em! Right, then: Adam's wonderful Wicklow Way result was quite simply bang on! Fantastic once again, Adam … Now just know the route beforehand and then the others will follow you … Going all the way for the win!"