THE BEST YEARS OF A LIFE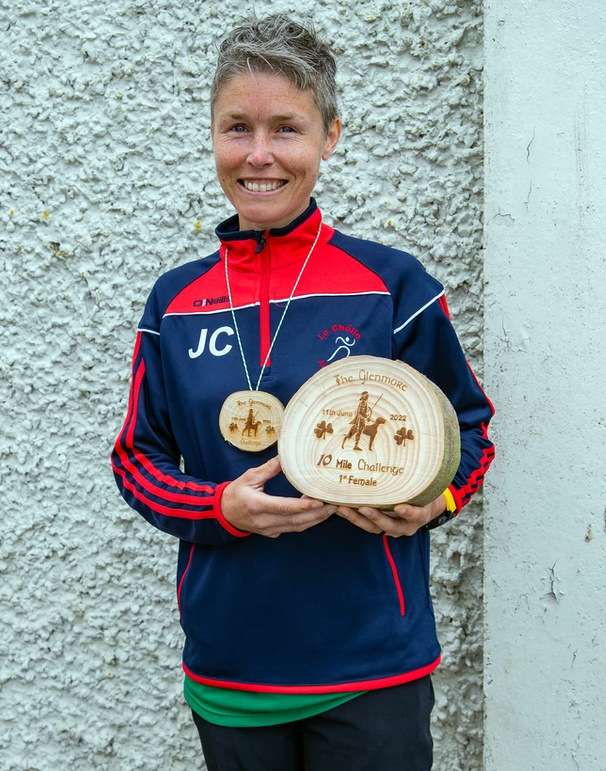 Jan "Jantastic" Corcoran took the win at the brutally tough Glenmore Challenge 10 Mile and rewrote the record books in the process. Tagging along for a jolly with her mate Turlough Conway, Corcoran had modest ambitions going into the race: "I wasn't really expecting anything—just to give it a go." And that she did, placing fourth overall and first female in a stonking 63:17, shattering a sensational five minutes off the course best of one of the most strenuous 10-milers in Ireland.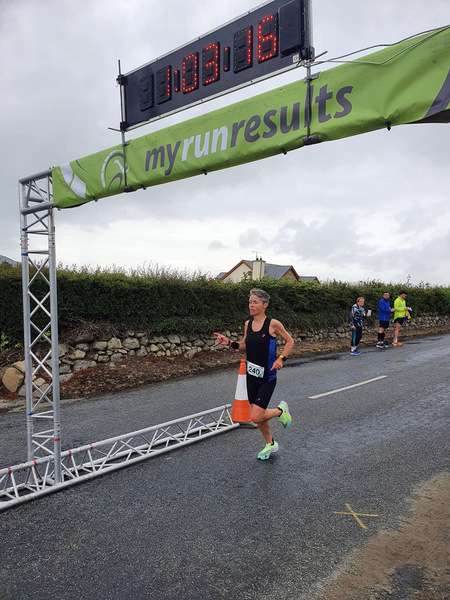 The Cooley Peninsula in County Louth is known for its glorious sunshine and epic views across the Irish Sea, but unfortunately for Jan, the weather turned as sour as a lemon—she had to deal with sheets of rain as well as gale-force gusts coming from (no, not Turlough) the coast.
The Stable News' window cleaner/reporter extraordinaire, Ally "the Chin" Smith, heard Corcoran whisked herself away to the Big Apple post race. So he sat up till midnight to phone Jan after her dinner:
Ally: Alright, Jan; quit stuffing your face with hot dogs and slices of pizza for a second. Tell me how it went.
Jan: Om, om … Sure thing, Ally. This trip's been mental busy, so it's a good job you called now before we headed back out.
It was a very well-organised event. Not an easy 10-miler, especially the part with the hill that went on and on for about two and a half kilometres. My buddy T kept saying, "When we turn that bend, it flattens." He lied—it didn't.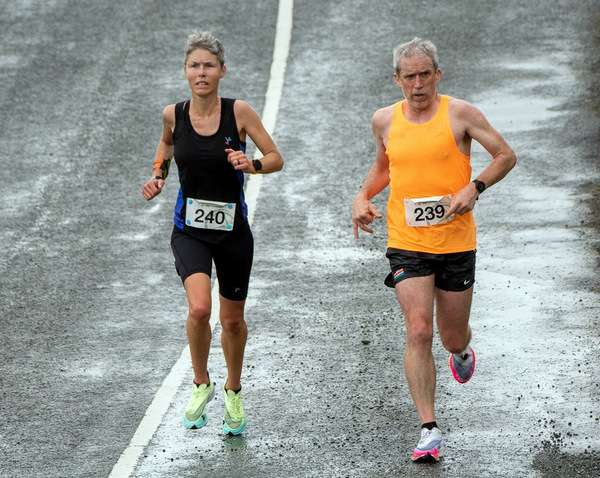 The plan was to keep it controlled up to 8km, and then make a steady increase, which we did. T and I worked well together, pushing each other—he even blocked the wind for me for a bit, too.
Very hilly route, and most definitely not a PB course, but an enjoyable race that definitely worked the legs. I'm very happy with the result.
Ally: Bleedin' awesome, Jan: an all-time best, first place, and pipping Turlough to the post. You must be very happy indeed. What's next?
Jan: Well, this weekend I'm running the four mile LGBT Pride Run in Central Park (just for fun), and next month, I plan on giving the Fingal 10K a good go in preparation for DCM. I'm also hoping to do the Frank Duffy 10 Mile in August and the Irish 3/4 Marathon in Longwood this October.
Ally: A packed racing calendar for the next few months; no wonder you squeezed a trip to NYC before all that. Enjoy the rest of your vacation, Jan, and I'll catch you later.
Jan: Thanks, Ally. See you.
A little birdie told the News that Coach Stazza was reluctantly taking one of his girls to see some bloke called Harry Styles, so we gave his chauffeur-driven limo a buzz before he went in to scream his lungs out:
"Yeah, yeah, yeah, the sacrifices us parents need to make to keep our darling children happy … I've heard he's the new David Bowie, all flamboyant and charismatic … But I know he's a spoofer … He'll get better with age, as we all do, and if it keeps my girl happy, then who cares? … Oh, you're breaking up … Jan? … Glenmore? … Oh, yeah; now I know what you're on about … A cheeky little opener for wonder woman Corcoran … A supremely paced effort (helped out by 'Commissioner' Conway), first place lady, and a lightning-fast clocking over an arduous route, including a course record … Fantastic, Jantastic—chapeau."