THE CLOYNE CYCLONE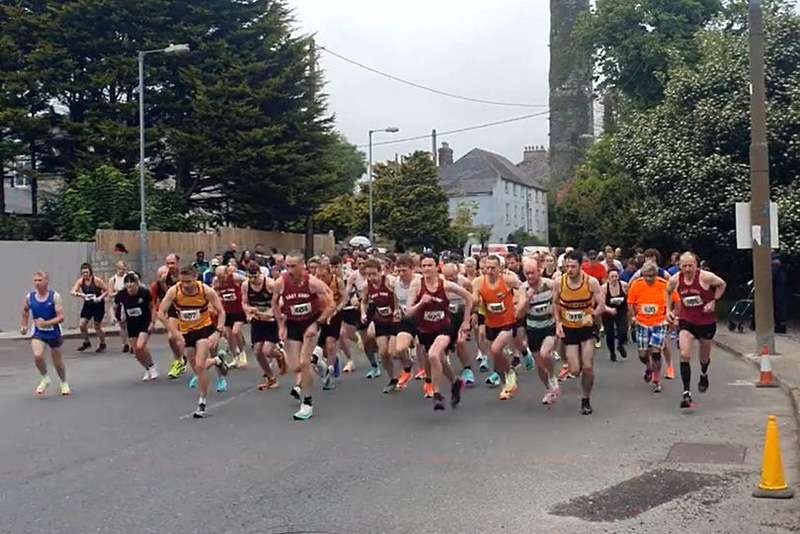 Stablemate Tadhg "the Curator" Crowley blew along the roads of East Cork (as part of the inaugural Cloyne 5 Mile) in a spectacular, 53" PB clocking of 28:13—landing just inside the top 10, with a ninth-place finish.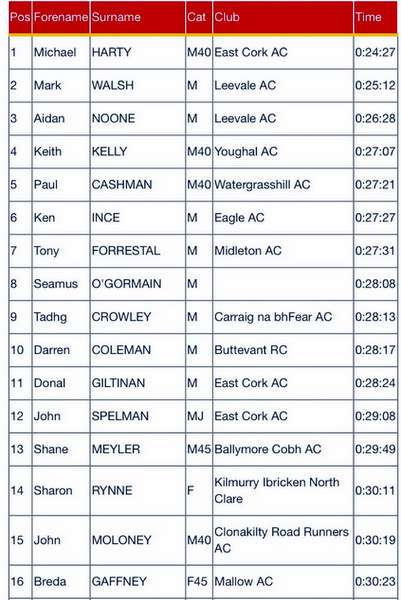 The dry, cool day had the athletes fooled for most of the two 4km laps until, at precisely 20 minutes into the race, they suffered a torrential downpour and hurricane-like blasts.
The Stable News informed Ally "the Chin" Smith that the Curator was on holiday in Spain, so to save costs (and the planet), he had to settle in for a phone call to the most descriptive of Stablemates:
"How's it going, Tadhg? I hope you've packed plenty of factor 50 for that pasty Irish skin of yours, hahaha."
"Absolutely, Ally. I don't go outside until I'm slathered in the stuff and wearing my "Man from Del-Monte"-inspired Panama hat."
"Hahaha, brilliant. Tell me all about it, then."
"This was only my second five mile race, and the previous one was on a ridiculously hilly route, so I was confident I'd PB here. I was pretty distracted in work during the lead-up so hadn't thought about the race at all.
I'd usually have a plan, would have checked out the route, and would have a clear goal. But I didn't here. I just arrived and decided I'd start off at 5:40/mile pace and see what happened.
After about 500 yards, I fell in with three other runners, and we ran the whole race together. It was perfect—I didn't even look at my watch and just ran along. It's a nice route; only a very small incline before the village, and a nice downhill through it.
The rain and wind kicked in halfway around the second lap. Not too troublesome, apart from my singlet feeling like it was made of concrete! The group of four became three, and I reckoned if I was to get a top 10 finish, I'd have to make a move.
Just as we approached the last corner before the village, I dropped the hammer, taking off at a scandalous speed. I'd no idea where the finish line was, but it's always positioned in the village. All the way through the village and still no sign of the line? I tried to keep the stupid speed up. Then I checked my watch, and it said 4.6 miles, and sure enough, there was the clock off in the distance!
The next 400 yards were torture, but I managed to hold my position and was happy finishing ninth in a strong field. And lesson learned—always check the race route!"
"Help ma boab; that's not like you, Tadhg. You're the organised one, are you not? But never mind me. A cracking five-miler before your holiday, and it sounds like you needed it after that last mile, oof. Congrats on the chunky PR as well; 53" off is great going. Anything else lined up?
"Nothing in the short term. Cork City 10-Miler in August, and the Dublin Marathon in October."
"Well, enjoy the rest of your holi-bags, and I'll be seeing you in the autumn."
The Chin had no sooner put the phone down than Coach Stazza belled the boys in the office to give his conjecture on Crowley's crack at Cloyne: "Alright, lads? Hope you're having fun typing up all the fantastic results coming in … Little TC had a grand day out in Cloyne, I see … The beginnings of a perfectly paced run until he misjudged the route and had a looong way to go, ha-ha. He gritted it out and held on for a tumultuous top 10 placing. Well done, my son."