THE COOK REPORT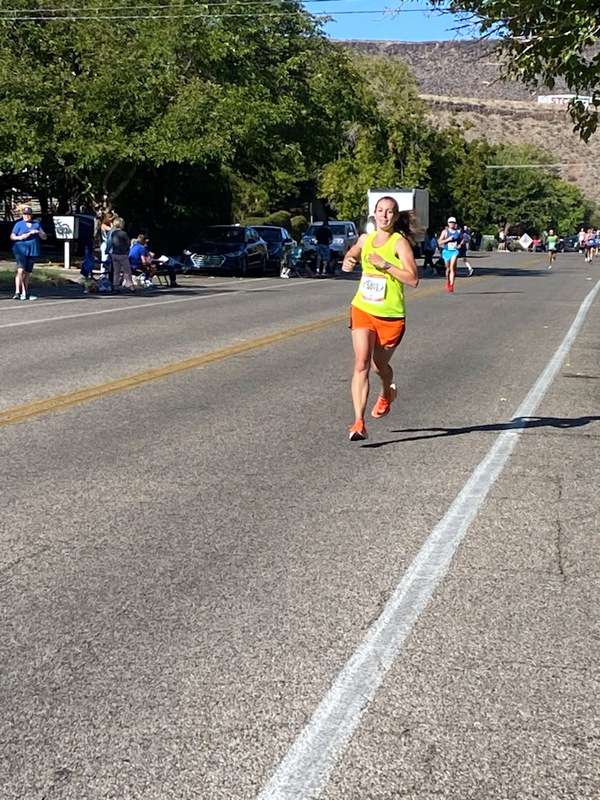 Stazza's Angel Amy Cook whipped four minutes off her PB at the St George Marathon with a baking hot 2:55:49. Cook whisked her way down the 26.2-mile course to come in fourth 35-39 and 18th female overall.
On any other Sunday, Cook would be reading a book or watching her kids play sports in the glorious sunshine … but not today, kids! Today was her moment to seize the PB she'd been chasing for so long.
The Stable News' young gun, Ally "the Chin" Smith, was milling about at the finish, kicking dust, when a motherly figure wandered over:
Amy: Hello, little boy; are you lost?
Ally: Ye … ye … yes—everyone has left me. 😥 I'm looking for Amy Cook, but I can't find her anywhere!
Amy: Well, aren't you the cutest little thing: you're in luck! You found me!
Ally: Really? Aww wow, thanks for coming over to check on me … I'm OK now; thanks for the tissue. Now, how did you get on?
Amy: It was a good race for me. I felt strong throughout and kept staying positive. I was happy with how my nutrition went, no stomach issues. It was a good day for me and a four-minute PB to top it off.
Ally: I can tell it was a good day by that massive smile on your face! Really well done, Amy. Your positivity is infectious; I feel great now. What else have you lined up?
Amy: I'm contemplating running the Mesa Half-Marathon in Arizona next February.
Ally: "Contemplate" nothing! Get signed up, and you'll smash that one too.
Amy: Thanks, Ally. I better go find Riley and see how he is.
Ally: Erm … yeah … He was, eh, rather upset earlier, but I think he'll have calmed down now.
The Stable News contacted Coach Stazza, who was relaxing in his homemade sauna (naked, of course … shudder at the thought!), smoking a Cuban, and having a glass of Amarone: "Well done, Amers! Cracking running, and congratulations on the PB. Enjoy a lazy week, and if you need any good book recommendations, give me a shout."