THE GRAPES OF NAPA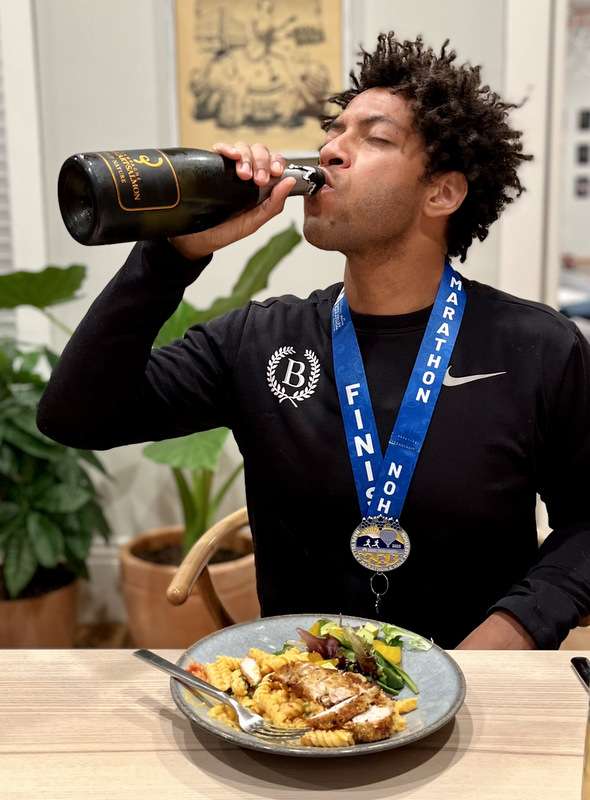 Stablemate Bjorn Trowery had the run of his life at the Napa Valley Marathon, clocking a sensational 3:07:51—a grape-crushing six-minute personal best!
Trowery had the pleasure of running through the home of a world-famous wine region in a positively perfect 45℉, accompanied by low humidity and (essentially) no wind.
"It was the kind of day you dream of," Trowery said as he came in 100th/1450, adding, "Vineyards surrounded runners throughout the entire course, and it made for a nice distraction." Hopefully, no grapes were harmed in the running of the race.
The Stable News' office has recently undergone some communications upgrades, including an Oculus VR headset. Ally "the Chin" Smith was raring to dive into the Metaverse and chat with Trowery:
Ally: Holy moly! This place is like Avatar! Ah, here comes BT; how's it going, Bjorn?
Bjorn: Going great, Ally; how are you liking my workspace?
Ally: It's a bit trippy, but I'm getting used to it; tell me all about this wine lovers' marathon, then, ha-ha. Did they have red and white at the aid stations?
Bjorn: Hahaha, it wasn't that kind of wine marathon, just an amazing run through the Napa Valley.
I had a tough time in London dealing with an injury and staying consistent, so this race was a long time coming. I went into the race feeling as if it were just another training run because I did the work and knew that even if things didn't go as planned, it wouldn't go off the rails.
Ally: Always good to know the training is in the bank and to have the confidence to get after it.
Bjorn: Yeah, this cycle was close to perfect, and Coach Stazza gave me such a good balance of pushing me in areas I needed, but not overcooking me.
My fuelling was perfect, the conditions were everything you could hope for, and all that was left was to finish the cycle and put an exclamation mark on all the hard work.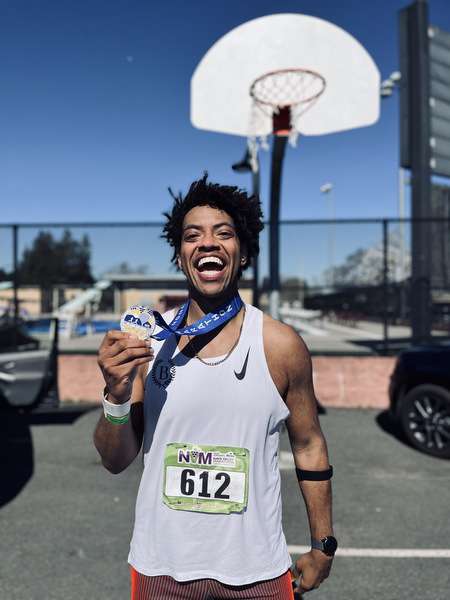 Ally: Absolutely brilliant, Bjorn. A six-minute PB is quite the exclamation! Are you sticking with the marathon, or do you have other ideas?
Bjorn: It's time to hit the track! I'm going to take my time easing back into racing, but I'd love to use this fitness to rip a 5K in April and maybe another half-marathon in May before thinking through marathon plans for the fall.
I know that if I'm patient and consistent, the results will come. A sub-3 for my next marathon will be the goal, but until then, time to get even faster.
Ally: Sounds like you have it all mapped out—excellent! I'm sure the sub-3 will be there, as Coach knows what he is doing, and you are a great student.
Bjorn: Thanks, Ally!
Coach Stazza was invited to join the boys in the Metaverse, but being one hundred years old has its drawbacks, so he sent us this congratulatory rant instead:
"Bloody technology! What's wrong with just picking up the phone? Bloody damn thing wouldn't turn on! Never mind … Bjorn ran an excellent race, and everything clicked into place … Even better, he's sending me three cases of Duckhorn Cabernet Sauvignon when I return home … What a gent … Thank you, and congrats on a great performance and huge PB."