THE ICEMAN COMETH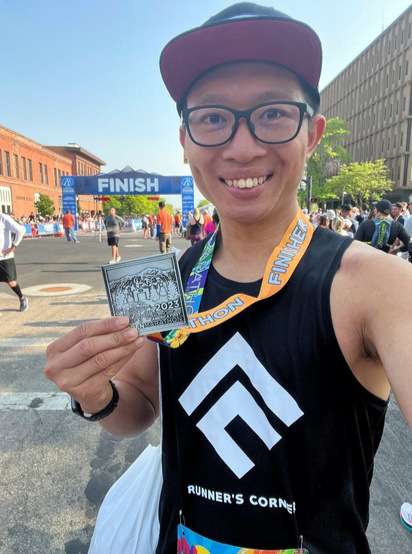 Stablemate Wing "Iceman" Hoe Yee rattled out an eight-minute personal best at the Ogden Half-Marathon in Utah. The Iceman clocked a sumptuous 1:32:50 (even after "going potty" at mile nine) and placed sixth in the M30-34 category.
With nipples that could cut glass, the Iceman found it chilly at the start (60℉). But as his teats thawed, his pace increased (as instructed by The Stablemaster)—who has had plenty of experience running half-Marys with frozen and bloody nipples.
The Stable News contacted the Iceman for the lowdown on his downhill:
"I wish I didn't run to the bathroom during the race. It went very well from the start, as I followed John's instruction for going +10"/mile for the first three miles. Now I feel much closer to getting into the 1:20 HM range and sub-3 hour in the full marathon. But I'm also eager to see how my 10K will turn out, as well."
Coach Stazza called the News from his private jet en route to Istanbul, the penultimate stop before arriving in Mauritius: "Ah, yes; the Iceman put on an excellent showing at the Ogden half. He clipped along cool, calm, and collected, just like his moniker would suggest … You can be my wingman anytime."
The Iceman has a busy rest of the year planned, with the Utah Valley 10K this weekend before the Glacier half in Montana at the end of the month. He'll return to Utah for the Hobble Creek half before jetting off to Malaysia in September to tackle the Ipoh 7 Bridges Run.