THE PAST MASTER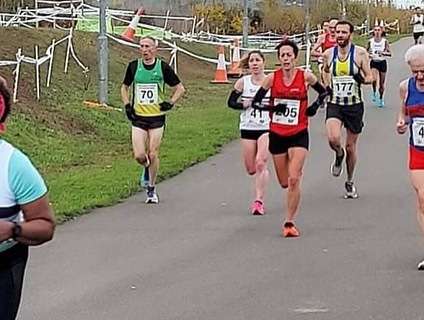 Stazza's Angel Liz "Looks could kill" Weeks (41) was in action at the British Masters 10K Road Championships at the Cyclopark, in Gravesend, Kent. The former-rat-racer-turned-full-time-PT/coach challenged top-flight runners to place fifth female overall and fourth W40, with a blistering 38:53!
Four rolling laps in the freezing cold and wind meant Liz had no thoughts of setting a new PB; this was pure racing at its finest.
Weeks told The Stable News:
"It was good to be back racing in a competitive field and off a mass start, even though the four windy and undulating laps were tough."
The Stable News got a hold of Coach Stazza and Ally "the Chin" Smith, who were on a weekend away in Ally's homeland:
Ally: This is a crackin' wee bothy, eh, Stazza? Wait till ye try this tattie soup ma missus made us! Better than that Michelin star shight you like.
Stazza: Yes, this is a very authentic abode! Mmm, that soup is fantastic; what meat is in this? It's very flavourful.
Ally: Pure, 100% steak slice, ma man! Only the best for us!
Stazza: Ha-ha, I'm sure it is! Did you see Liz Weeks' wonderful 10K at the British Masters? A hard-fought, well-paced run! Brilliant!
Ally: Aye, she sure handled that course well. Fighting the wind and the constant ups and downs. Very well done to her!
Stazza: Indeed. Let's get this finished, as Take the High Road is on soon!
The "Weekly Warrior"'s next showing will be on December 4 at the Kent Masters Cross-Country Championships.
Good luck!