THE PHENOMENAL BROCKENBROUGH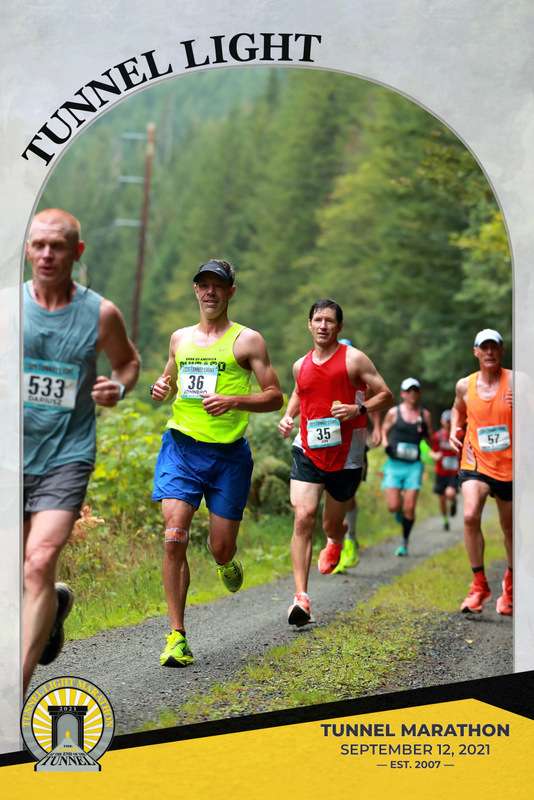 Stablemate and wannabe singer John "Broadway" Brockenbrough obliterated his marathon PB by almost five minutes at the Tunnel Light Marathon in North Bend, Washington. Broadway dived under the mythical three-hour mark in 2:55:36, securing joint first-place in his 50-54 age category and 22nd overall.
Typical September Washington weather was the order of the day—mid-50s temps (like John's age), overcast skies, and a few spots of rain kept his running as smooth as his singing.
The Stable News was on hand to hear what Brockenbrough had to say about the race:
"Best race of my life. I felt good the whole way. This was my first time under three hours; once I started running, I never doubted I could do it. I felt better prepared for this race than any race I've done. Also, I enjoyed training for this run more than any other marathon. Really enjoyed running with my friends. The course is beautiful. Mostly compact gravel, downhill, beautiful scenery, and no turns."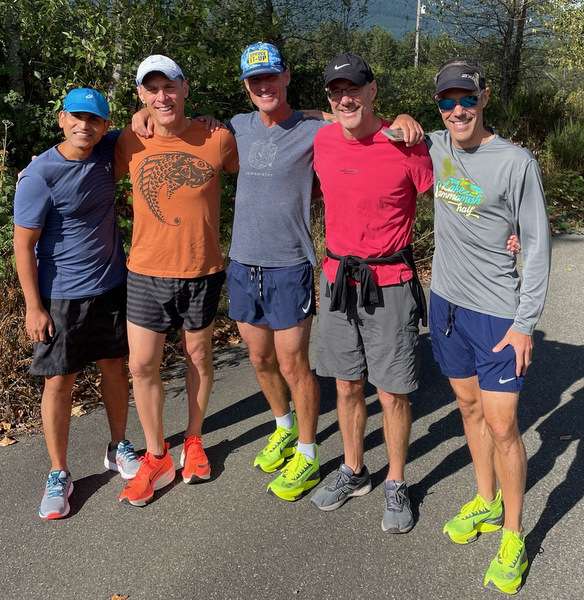 Assistant coach Ally "Buble" Smith was all wrapped up in his dressing gown, suffering from the worst case of man flu ever recorded: "I'm dying … Tell my wife and kids I love them … This must be the end …" You're OK, Ally; just get some vitamin C down you and plenty of rest. A quick comment for John before you pass on? "Sorry … sorry … I'll muster a few final words … John only joined The Stable a few months ago, but he fit right in and is part of the family … An excellent achievement going sub-3 … and joint first with one of his pals. Congratulations … Now I need to suffer in peace … I'll be back in the office in a few days … urgh."
Cramming a few extra courses—and possibly bottles of wine—down his gullet before he gets back to work "properly," Coach Stazza commented:
"Hey, John. I'm delighted it all came together. Sometimes, as Yeats, Achebe, and Harry Connick Jr have said, 'Things fall apart; the centre cannot hold.' But as Heaney (the greatest ever poet—even a country mile better than your guy Whitman), referring to Yeats, espoused, '… the moment of complete consciousness is also the moment of complete powerlessness in the face of pain.' You've been there, only wanting to go there again. It ain't coaching, it's life chan6.😉"
We don't have a clue what he's on about, either! Busy practising his singing lessons, Broadway is unsure when his next race will be. But one thing's for sure: with The Stablemaster's help, he'll be "Defying Gravity" when he does.