THE RACHAEL PAPERS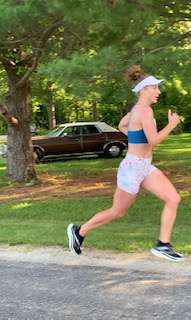 Stablemate and high school track and cross-country coach Rachael Brewer took the win, and second overall, at the Countryside 10K, amid warm and windy conditions in Sidney, Illinois.
In her first race since November 2019, Rachael put in a rust-buster performance to finish in 36:55—all the more impressive given she's been battling a neck injury for more than 12 months.
The Stable News' paperboy, Ally Smith, caught up with Rachael to clarify if it was a PB or not.
Ally: Was it a PB, and if yes, by how much?
Rachael: It was not. PR is 34:29 from a track 10K in college. I did run this race in 2018 after coming off a two-week break and ran 38:15.
Ally: So it's a course PB and ROAD 10K PB. Excellent!
Rachael: Well, if you count my Stablemaster 10 TT on the roads, it was not a road 10K PB. I ran a 35:15 road 10K for the time trial.
Ally: My god, that's some fast running. Do you know TTs are not "official" in Stazzaland? By my reckoning, it's an official 1 minute and 20 seconds road PB, as it was in a race. It shows what's to come from you in the future.
Rachael: Stazzaland? Never heard of it. Sounds great, thank you.
Phew! Now that's cleared up, we can get to Rachael's actual thoughts on the race.
"I am super happy that I was able to run an in-person race after not racing since November 2019. I had a heck of an injury battle for over a year, so I am just so grateful that I was even able to run. But I don't think this race showed my true fitness level. However, there was nothing I could or would have changed about today because I gave it my best. My fiancé and dad came to the race with me, so it was great to have their support. A huge surprise was that some of the athletes I coach (I am a HS XC/track and field coach) surprised me at the race and made a hilarious sign for me. The major highlight of the day was them showing up on a Saturday to cheer me on."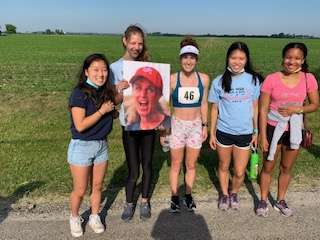 Coach Stazza, the benevolent ruler of Stazzaland, added: "Rachael is a really talented runner, and she puts the work in! She will be a force to be reckoned with in the near future."
Brewer's attention is now on her next target race: the Mahomet Half Marathon on August 7th.
Good luck, Rachel.