THE ROCKY ROAD TO MALLOW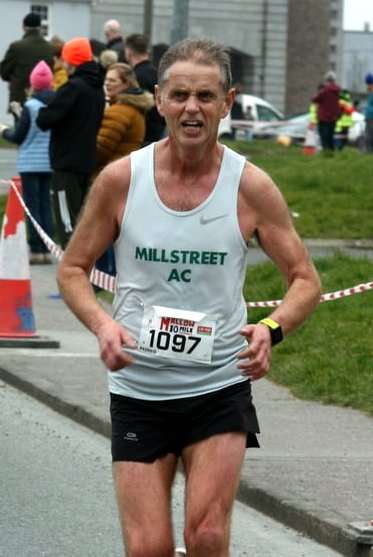 Stablemate Padraig "Swooner" Sheahan overcame the odds at the Mallow 10 Mile, diving deep into the pain cave and bursting into the light with a 63:30 clocking, taking a whopping two minutes off his best and earning M55 silver!
The Stable News' hot-shot reporter, Ally "the Chin" Smith, swooped in on Swooner before the latter was carted off in an armour-plated Humvee:
AS: How's it going, Padraig?
PS: Feeling great now that's over! I didn't feel the best before it and felt even worse during it. See? Here's a picture of me, looking like an M85, ha-ha.
AS: Oof, you're like death warmed up there, pal. Not your normal, Adonis-like self. But you still managed a two-minute PB and a podium spot against your age-related peers, so it can't have been all bad?
PS: Thanks, Ally, ha-ha. When you put it like that, it was a good one. It was very well organised, and the conditions were spot-on—next time I'll just need to feel like this during the race, ha-ha.
AS: I don't doubt it for a second, mate; when is the next one?
PS: The Great Limerick Run on May 1; a half-marathon through the city centre, riverside, and countryside.
AS: Excellent, bud; keep up the training, and you'll smash it.
Coach Stazza had no sooner landed back in Ireland before his daughters ordered him to get Jellybaby a "perfect proofreading parent" mug and a bunch of flowers for Mother's Day: "Where on Earth am I to find a mug like that? Maybe Padraig (pronounced 'Pod-rig,' for the uninitiated) could make me a lovely plastic one?
Hmm, never mind that nonsense for now—Padraig's run is what we're here to talk about! A cracking run from the old looker. A chunky PB while feeling like crap means there's more to come in the future. Good man … Now, about that mug!"