THE STRANGEWAYS REDEMPTION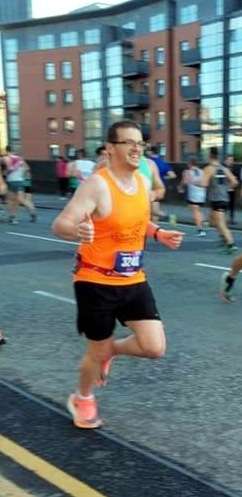 Stablemate Michael Moynihan hammered 4'42" off his marathon best and placed 889th overall (539th male) at the mass participation event in Manchester! Chipping away each second like his hero Andy Dufresne, Moynihan won his freedom in an impressive 3:07:58.
Digging deep, Moynihan started to feel the heat. But a little pick up of wind kept him cool—as did the water station volunteers, known collectively to Moynihan as "Red."
The Stable News called Michael, who was lazing on the beach in Zihuatanejo; staring into the Pacific Ocean:
"Loved every minute of it. The buzz of being back in an actual race with crowds cheering you on and randomers calling your name was brilliant.
Really couldn't have gone any better than the Stazza words drilled into my head: DON'T GO OFF TOO FAST. I had the watch set up like a training run: first four miles at five seconds slower than goal pace; up to mile 20 at three seconds slower; then let loose after that. Signing up to The Stable, my marathon goal was the magic three hours, but after a couple falls/injury and vaccine that changed to 3:10. And I thought I'd struggle at that.
I panicked at the start when everyone took off, and I was falling to the back of the wave. But, again, in Stazza we trust, and I (mostly) kept my pace. I would get carried away in the main spectator areas and had a few faster-than-meant-to-be kilometres, but I was feeling good and would control the next km.
Big confidence boosters came from mile six onwards, as no one passed me again. Halfway hit in 1:34:40; feeling great and on target—stay controlled. Mile 16 the hills start. Brilliant! This is my type of course; these are bumps compared to the Burren. Getting stronger, I stay going. Reach mile 20 worried about pushing on too much, so keep a steady pace until the sign for 40km. I figure it must be safe to push now and race the last 2km+.
Crossed the line and never felt so good or fresh after a marathon; I'd never negative split a marathon before. For any newbies to The Stable, listen to the coach. He knows his stuff, his Super Base plan pays dividends to your training, and believe in his race plan."
Assistant coach Ally "the Chin" Smith was clock-watching for the day to end when we told him about Moynihan's run: "What an immense run, buddy! It's not been plain sailing for Michael, with a few niggles trying to hamper his progress, but he listened to Stazza, and it all paid off. Well done, buddy!"
Coach Stazza called The Stable News while he was out for a walk—as much exercise as he gets these days: "Hello, hello! Just out for a wander to clear the head. After my last fall while walking, with no bike in sight, I have decided to wear my helmet and safety pads for reassurance. I can tell you didn't need any assurance, young Michael Moynihan. What a cracking run and very well paced. Well done, son!" 
Michael's taking some downtime after the marathon, with a few local races, a cross-country, and a GAA fundraiser to keep him busy before he sets a plan in motion for the future.