THE WONDER OF YOU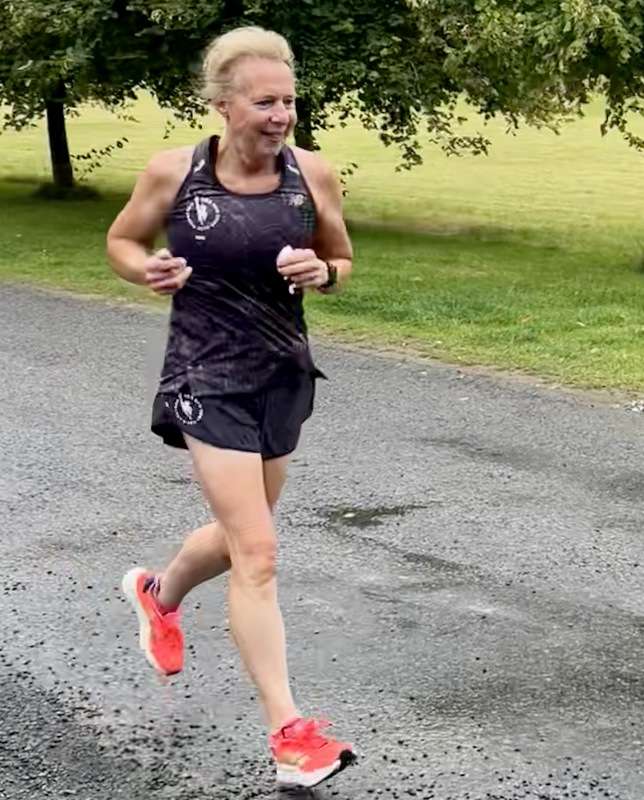 Stazza's Angel Helen "Flying" Finn blitzed around the Longford Marathon course with grace and poise. Dodging the light drizzle, she completed the 26.2 miles in 4:12:05 and was just outside the top 10, placing 14th female.
Now, before all you "élite" athletes start harping on about the time, consider this little titbit of information. The analytical wizardry of the world-famous McMillan Calculator shows our Flying Finn earned an age-graded result of 3:10:24! So a fabulous performance from Helen, and in less than a year since joining The Stable, to boot!
Passing through the melee at the finish line gantry, Finn told The Stable News: "Thoughts on the marathon—not flat. 😄 (Contrary to popular opinion.)"
We sent Ally by Coach Stazza's abode for a cup of tea, some biscuits, and a chit-chat about Helen's heroic hoof:
Ally: One sugar and milk for me, boss. Thanks very much.
Stazza: What can I do you for?
Ally: I just popped over for a few words on Helen Finn's race. A stormer of a run, if you ask me.
Stazza: Yep, a little over four hours for the full 'thon on a deceivingly lumpy route is sterling work. Better still, she'll be nipping under four in the not-too-distant future. She is tipping away nicely.
Ally: Great to hear. Just goes to show age is no barrier to entry to running or Stazza's Stable.
Stazza: Absolutely, Ally. I am the people's coach. Anyone can join in—that's the beauty of it.
Ally: Thanks for the oolong, old boy. I better be off and type this up.
Stazza: See you later.
The Flying Finn will be turning Japanese when she takes on her next mara' in Tokyo this coming March, but she will enter some other races between now and then.