THIS FLYING FINN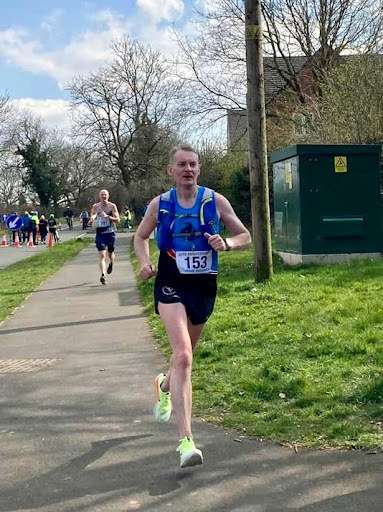 New Stablemate on the block John "007" Finn negotiated the Ashby 20-miler in a splendid 2:23:15, knocking 48" off his last score at South Cheshire.
The sleepy town of Ashby-de-la-Zouch provided 007 with perfect running conditions as he chalked off the laps en route to 86th overall and 12th M55.
The Stable News called Finn on his secret spy phone for a debrief:
"Best-organised race around by a local running club, and this year marked its 30th anniversary. Great prep for any marathon—received a hoodie and a cheese cob at the end."
Assistant coach Ally "the Chin" Smith had this to say about Finn's fabulous frolic: "John is a fantastic addition to the group, and he lives for all things running. Of course, that's much to the dismay of Mrs Finn—he never finnishes any project he starts around the house, ha-ha! Cracking time for 20 miles, my man. Onwards to Boston!"
The Stablemaster was busy chomping into his morning pastries (deep-fried croissants with a Mars bar stuffing) when he took a breath and left us this ASMR nightmare of a voice note: "Oh, this thing is a masterpiece of culinary excellence … Thanks for the recipe, Ally! Ooh, right on to Johnny boy's double-decker triumph. A mighty performance that puts him within range of sub-three for the full 'thon at Boston. Sisu, John."
As the illustrious coaches have noted, Finn will be tackling his 23rd marathon in Boston on April 17.