THIS TRAIN IS BYRNE'D FOR GLORY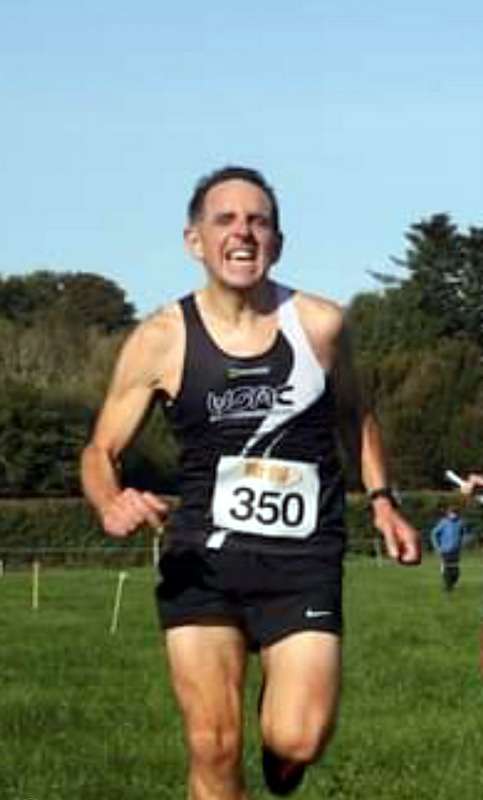 Stablemate John "Burn Baby" Byrne torched through the famed hour mark, taking 2'15" off his PB in the process, with a white-hot 58:55 at the Beat the Train for DSI 10-miler along the Waterford Greenway.
Byrne blasted his way to 15th overall, and a fantastic first-place M45, in perfect racing conditions—10℃, and not even a wisp of wind to disturb John's "hair."
The Stable News got in touch with the firestarter to hear all about it:
"Breaking 60 minutes for 10 miles was one of my main goals when signing up with John last May. Being honest, I thought it would take 12 months, so to do it after six tells its own story.
I had raced 10 miles maybe a dozen times over the last five years, clocking between 61 and 65 minutes, and I thought, Well maybe that's my best? Maybe I'm not going to break 60? This is where John's training changed everything. I toed the line Saturday knowing in my head I was going to break 60 minutes.
My training had suggested this, and having done eight races in the last 16 weeks, I was no stranger to burning the lungs and being on the pain train (excuse the pun). Races ranging from 5K to half-marathon, with a couple of XC races thrown in between. So to break 59 was just a bonus.
John's tailored training really showed its worth when deciding what to do between so many races! John was able to point me in the right direction every time. Previously, I would have raced, then back to the track on Tuesday with the club, tempo on the Thursday with a few of the lads, then long run Sunday (usually on my tod). I now know that doesn't work for me. I don't need to worry about that sh*te anymore, who's doing what, and when; I just get the training off John on the Sunday, follow the plan, and that's it—easy 😁."
Cosying up on the couch watching I'm a Celebrity…Get Me Out Of Here! Coach Stazza, General Puffball, and Ally "the Chin" Smith were discussing John's run before Ant & Dec ruined some poor "celebrity"'s day:
The Chin: Doing well staying off the sugar, General, ha-ha! Gimme some Haribo before you finish another bag.
General Puffball: It's a tough go; I'll start again on Monday! At least we don't need to eat sheep's testicles! You must have that over your way, Ally!
Coach Stazza: Eating testicles might increase performance! Natural testosterone boosters, hahaha! Have you seen John Byrne's race? Sub 59' for 10 miles is excellent! He is coming on great.
The Chin: Wow! You're right, Coach. John has been putting in the work and is seeing the results—fantastic from him.
General Puffball: Even while off duty, I shall remain impartial, but getting under the hour, and more so, for 10 miles has to be commended.
Ally: Ooo, ooo, it's starting; can't wait to see what torture they'll be put through this year!
Byrne's next outing will be the county senior 10K XC on December 19.