TWO'S COMPANY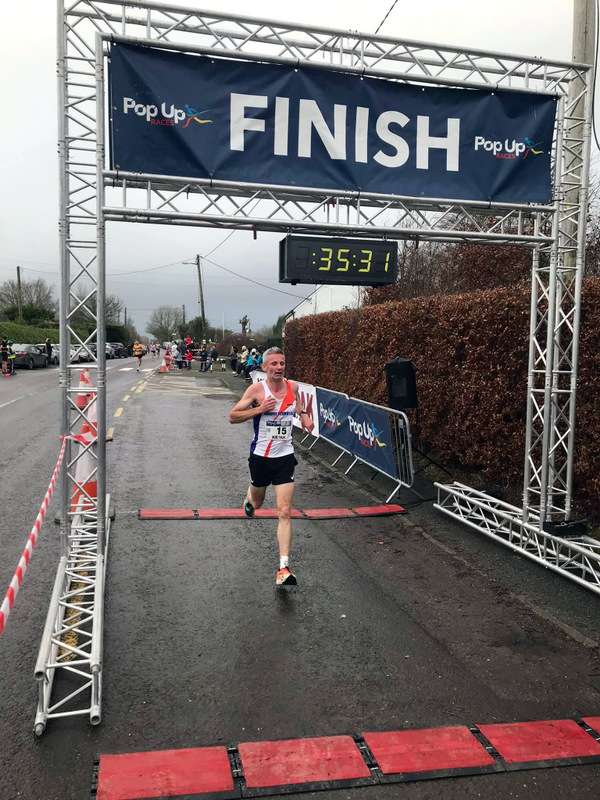 The suspense is finally over! Stablemate Liam "Old Man" O'Connor's triumphant, end of year race reports are gracing the pages of The Stable News.
First off, the old boy banged out a cracking 16:31 at the Newmarket 5K Classic Road Race (a midge's baw hair off his PB of 16:30), charging home for M50 silver.
And for his pièce de résistance, the Old Man cooked up a storm at the inaugural Grange-Fermoy AC New Year's Eve 10K; obliterating 1'58" from his PB, O'Connor clocked a mesmerising 35:30. But that's not all; O'Connor reclaimed the title of "fastest 50-something" with yet another M50 win!
The Stable News tasked O'Connor's No 1 fan, Ally "the Chin" Smith, to unearth the gems from the old boy's mind:
Ally: Guess who's back, back again … Ally's back … Tell a friend.
Liam: Hi, Ally; is that what you young folk listen to? I can't see past my Daniel O'Donnell collection: "I just wanna dance with you / Twirl you all around the floor / That's what they intended dancing for / I just wanna dance with you."
Ally: O-kay, then. Remember last week I said I'd be in touch for the road races? Well, now is the time.
Liam: Oh, I was enjoying my foot rub so much, I must've forgotten. The Newmarket 5K and the first running of my club's New Year's Eve race, ye?
Ally: That's right! And it's Hogmanay; make sure you bring that up at the committee meeting and get the name changed, ha-ha. Right, enough shenanigans. Let's get the scoop on this, and I'll leave you to Danny boy.
Liam: I'll try my best, Ally. The 5K was held in Newmarket, Co Cork, on December 19, and a total of 423 athletes started. The weather was perfect—a beautiful, mild Sunday morning, sunny, with no breeze.
My finishing time was 16:31, I placed 43rd overall and second in my age category (M50), and it was my second fastest 5K. With my PB being 16:30, I just missed out.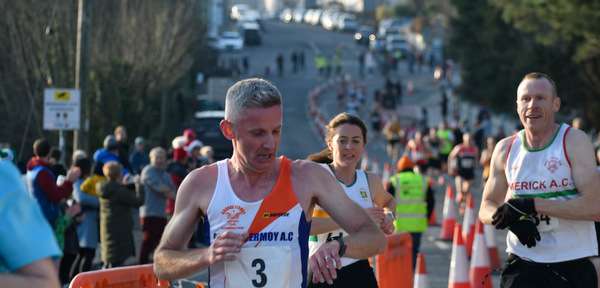 Ally: Sheesh, and they say as you get older you lose your memory! This is a lot of detail, and you were so close to breaking that PB.
Liam: Good things go to those who wait. It was very well organised and managed by Duhallow AC. The conditions were fantastic, and it was a very fast and flat 5K route. (It was an out-and-back course.) Kilometres one to three were fast, flat, and downhill. Three to five were a nice drag back into the town of Newmarket and then a lovely downhill finish. Overall, I was delighted with my run after a tough XC season.
Ally: Flippin' fantastic, pal; the road legs were still there after XC! Superb. Let's get to the grand finale of 2021.
Liam: Ah yes, my club, Grange-Fermoy AC's, inaugural New Year's Eve/Hogmanay 10K—och aye de noo!
Ally: Ha-ha, very good. Race info?
Liam: Sorry, Stazza dared me to do that in our next chat, hahaha. The race was held in Grange, Co Cork, and I was one of 350 athletes who started. The weather was ideal; a beautiful, mild Friday morning, with just a very slight breeze.
My finishing time was 35:30, and I finished 13th overall and first in my age category (M50).
It was an official 10K PB for me, being 1'58" faster than my previous official PB time of 37:28, from the 2020 Adare 10K.
I have an unofficial 10K PB from The Stablemaster 10K TT of 35:02, but that was on a much flatter route.
Ally: Cracking stuff, much better than your Scottish accent. You'll be champing at the bit to break that unofficial PB in a race, I bet.
Liam: Absolutely! This race was superbly organised and managed by our club, Grange-Fermoy AC. The race committee did a superb job putting on a brilliant race: the marshals and all the helpers on the day were fantastic. The conditions were ideal, and it was a great 10K course with an elevation gain of 80 metres—a tough test, indeed.
Ally: I've run out of adjectives, Liam. Any parting words?
Liam: In reflection, I'm delighted with the year, and delighted to be doing all the Coach Stazza sessions and races with my Stablemate and good friend Dave Greene. Now, I am back in a Coach Stazza training block until my first race of 2022, which will be the Mallow 10-miler on March 20.
Ally: Ya beauty. What a way to wrap up an amazing year, and here's to 2022!
The Stablemaster had just put the rice and beans on for dinner in Kenya when he called in to The Stable News: "These lads are showing the Kenyans how it's done, I tell you … And one lad that would surely show them what's what is our man Liam O'Connor! An incredible year from the grey wolf—and 2022 is going to be a belter!"