WE NEED TO TALK ABOUT KEVIN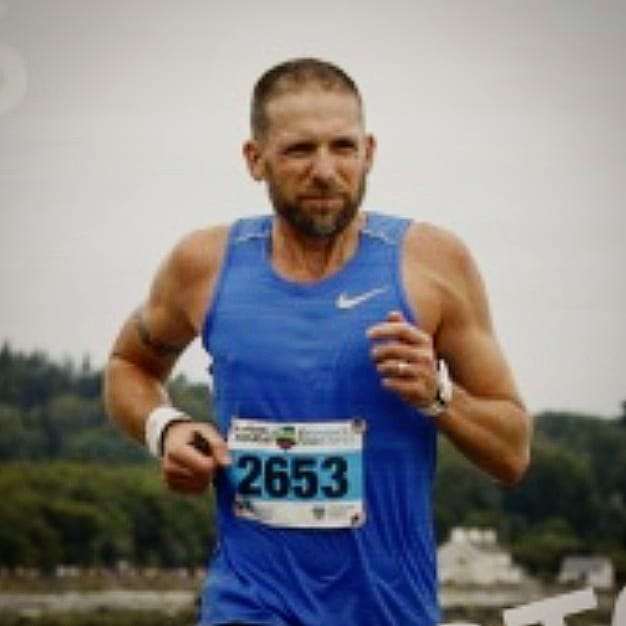 Stablemate Kevin "the Chef" Odgers whisked along the roads of Larne, Northern Ireland, at the P&O Antrim Coast Half-Marathon, in an egg-crackingly good 1:27:04. Odgers ought to have been happy, but the Detroit native was disappointed with a four-second PB. Currently residing in Dublin, Odgers has been banging out week after week of Stazzatastic sessions, and the fitness was there. But the curse of all distance runners was waiting in the wings to try to take him out.
The Stable News caught up with the Chef a few days post-race, so he could recover emotionally and physically—and pull himself together for an interview:
"The course was nice, and the crowds were great, even though I didn't pay too much attention, due to diligent focus (like in training), until the end. I neglected the main component of our training—proper fuelling and nutrition. I paid for this decision by losing out on the decent PB that would've been in the bag with all the training The Stazzamaster has given me from Jan 2021 to date.
I'm plant-based, and at times of travel, without your own food, it can be restrictive. I assumed I would be able to get some decent, healthy food in town, once I got to my B&B. However, assumptions are always killer, and this proved to be the straw that broke the camel's back. Usually, my staple carbs are brown rice, potatoes, and some gluten-free pasta: then, the dish takes its shape at home. Had Subway for lunch (no choice) = spike in insulin … feel full … however, hungry in an hour …. greasy food for dinner? Should I have chanced it, when I don't eat like that at home, and trial it on race night? No.
Onward to Tesco Express, 😊 a little shop with the bare minimum stock, where I left with cherry tomatoes, a small, plant-based wrap, blueberries, and gluten-free porridge oats. (No doubt, this story is not enticing you to become plant-based. However, I promise my lifestyle is not this restrictive at home, as I'm a professional chef. Follow me on Instagram @plantbasedathletekevin.
To end, I ate the Tesco food, went to bed hungry (already a deficit), woke up even hungrier, had porridge oats again, and a coffee—and off to the race. That energy and determination lasted 10 miles before I bonked, literally: the pace dropped a full minute and a bit. I kept strong, but not at PB pace, and about fell over, crossing the line with dizziness.
I walked back to the B&B, showered, drove home, spoke with Coach back and forth, and then devoured the largest Domino's pizza I could order, plus sneaking some of my wife's. I simply was craving carbs. Moral of the story: regardless of how you eat, make sure you're prepared—especially for a race away from your home.
I'm glad this happened, though; the training is about to get intense, and I know what to do. The training has been taking care of itself by following a process and believing in it. To complement the goodness of Coach's philosophy, I must prepare adequately from here on out, and with a first sub-3 marathon at Rotterdam the main goal this year, do the basics correctly. I like to use this quote by MMA coach John Kavanagh: 'Win or learn.' Lesson most definitely learned."
Stazzistant coach, Ally "the Frying Scotsman" Smith, was chomping away at a doner and chips when we asked him about Odgers overcooking: "See whit a dae? Get the body used to the greasy stuff. Then, when you're away from home racing, there's always a kebab shop or Indian. They do lentils and stuff in the dal. Kev should've thought o' that! Fair play to you for still bagging a PB. I know you'll use this to 'fuel' the fire for Rotterdam!"
Lying on a lilo in the middle of the Med, Coach Stazza surmised: "Kev and I had a good chat on the phone after his race, and once he stopped crying, he realised that this is a good thing. Make all the mistakes before the biggie and put every piece together for a great run. I'm sure he thinks about it often, and that's going to get him his sub-3 in Rotterdam."