WINGS OF DESIRE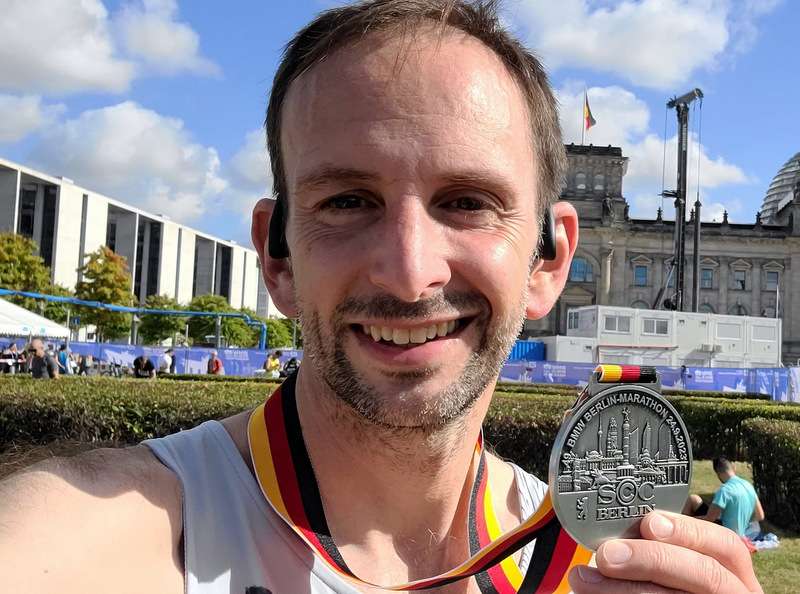 Stablemate Paul "Penfold" Parkins casually clocked a sub-3 at the Berlin Marathon, going 2:59:32 in the hope of snaffling a "Good For Age" spot in London. Good grief!
The tech-savvy software developer placed 2,850th overall and 538th M40. While the conditions were perfect at the start, he ended up a bit hot under the collar when the sun came out. But he welcomed the rays and revelled in the festive atmosphere afterwards.
That was until our man in lederhosen, Ally "the Chin" Smith, grabbed him for a rundown:
Ally: How's it goin', Pauly boy? I'm on my second bottle of your namesake (Paulaner München) and starting to get a head on. So fill me in before I get too carried away.
Paul: Ha-ha. It was great—well organised, and a really interesting city, friendly people, positive atmosphere, running with (well, behind) Kipchoge, new women's WR, and a German record. Also: the organised pre-race jog on Saturday finished inside the Olympic stadium, so I got to do a few strides where Bolt ran his 9.58 100m!
Ally: Hic. Amazing work, Paul. I can't believe you nonchalantly trotted in a sub-3; were you not tempted to go for a PB?
Paul: You're too kind, Ally, but it wasn't that easy. If I get my GFA spot next year, I'll go for a big PB there.
Ally: Exzellent! Can you tell I've been practising my German? What's on the horizon, Paul?
Paul: Perfect pronunciation! Hopefully, a half-marathon in York in January called "Brass Monkey" (it's cold that time of year) in the lead-up to London in April.
Ally: Klingt lustig! An extra pair of thermal underwear will be on the Christmas list, then, hee-hee. Take it easy, ma man; I'm away to grab some more Stablemates.
Paul: Thanks, Ally; see you again soon.
Coach Stazza, enjoying an easy Sunday morning listening to Mellow Magic, called the News with his thoughts:
"You can reach me by sailboat / Climb a tree and swing rope to rope / I don't care how you get here / Just get here if you can … Ahh, you can't beat a little Magic on a Sunday morning … Just like young Paul-ee knocking out a sub-3 like toff-ee! … Cracking stuff … Now let's get you ready for brass monkey weather."