WITHOUT LIMITS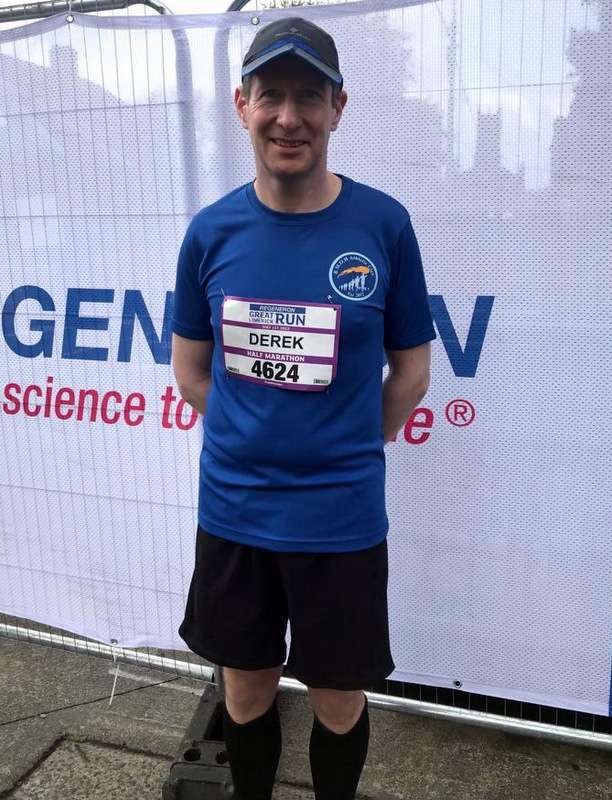 Stablemate Derek Vaughan got more than he bargained for at the Great Limerick Run, spanking 71" off his half-Mary best from this very race, pre-COVID. The sports-mad senior site engineer came home in a cracking 1:23:29, which earned him 49th/1,837, and a magnificent 10th M45 from 260 middle-aged hobby joggers.
A cloudy, misty morning awaited Vaughan in this picturesque poets' corner of the Emerald Isle. But he knows these streets like the back of his hand and so threw himself into the clag. He was just happy it stayed dry.
"The Chin" had a pre-COVID date of his own to attend—Little Mix at the OVO Hydro—so he was unavailable to cover the Great Limerick Run. Fortunately for us, Vaughan is quite the reporter, and he sent The Stable News this compelling copy:
"Firstly, I had a small injury a couple of weeks back, so I did not think I could run this—let alone race it. I had told Coach that I would not be racing.
In the lead-up, I was running fine but had very little speed work done and was building back up the mileage. In race week, I did not think I would run, but then, the image of my favourite race in a city crowd was tempting.
I always think you have to run a race before you deserve to wear a race T-shirt, so this was in the back of my mind. Approaching the race, all week, I was thinking, Was I going to race, run easy, or do a training run? I had done a few strides at top speed, and everything body-wise was thankfully fine.
So I arrived on the morning, and it was lovely to be back in Limerick city racing—due to COVID, it was off for the last three years. I began my normal warm-up with absolutely no pressure, as I had no clue as to what would happen.
I thought, I will run by feel and see how it goes. This is a totally free pass, and I'll see how long I can last at a faster-than-tempo-paced run. It was great to be lining up again, so when the hooter went off, I said to myself, I'll see how the body holds up.
First mile out towards Dooradoyle went just under 6:20, and this was comfortable. I felt good and stuck to this pace for the first 10km; when I went through the six miles, I was again fine and strong, so why not try to hang on till the 10-mile mark? The last section was my training ground near my workplace. (That's no trouble to me, having slogged through many of Coach's hard workouts there in the winter.)
It was nice to run here in the bright with no frost, and the bonus of racing with people around to give an added lift. The support around the course was excellent; at times, you had to keep an eye on the watch, as this was inspiring.
My partner was in the city centre at around mile seven, and it was a nice lift to get cheered on. When I went out over the Shannon Bridge, the wind was in my face—but it did not really affect my pace, as I knew this would only be for a short time. At last, I hit the 10-mile marker, and I was running nice and fast and picking off competitors in the distance.
I knew I could probably hold on at this pace, and might get close to a PB, but I had one last hill around the Gaelic Grounds to navigate. I lost a bit of pace there, and I could feel a small blister starting, but I said to myself, This will not stop me.
As soon as I came back on the Ennis Road, it was time to give it a right lash and see how it went.
Again, I picked off one or two more good runners, and this gave me the energy needed to finish the last mile at sub-six-minute mile pace. It was lovely turning the final corner on Limerick's O'Connell Street with 1:23 on the clock, so I gave it the final push, ducking around a large group of relay runners who were posing for a photo.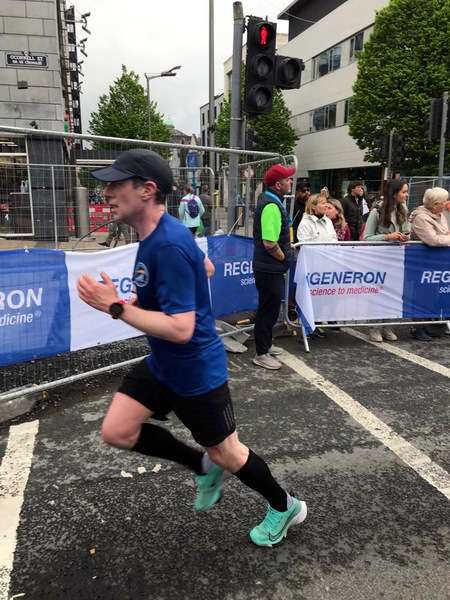 In the end, I could not believe it: that I was able to race, push hard, and get a PB, as I did not think the fitness would have lasted the 13.1 miles at that pace. But it did, and to finish in the top 10 in my age category was the cherry on top.
Thanks again to Coach's hard training sessions over the winter months, which made this possible.
Thanks also to my partner, Jennifer, who has supported me throughout and encouraged me early last week to run the race in the first place.
It has to be said the human body is amazing, and hopefully I can keep this up till autumn."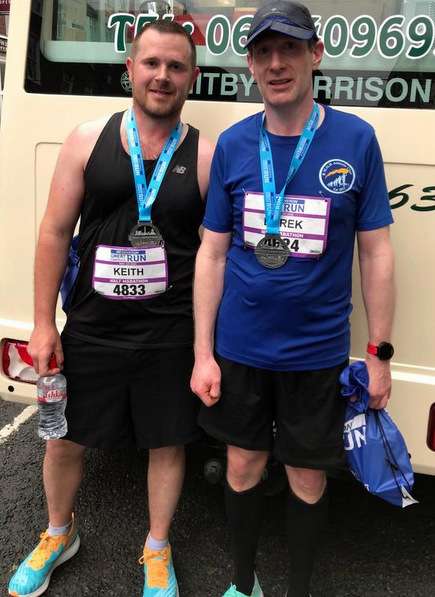 Taking a break from singing with the Mixers, the Chin left us this ear-bursting voicemail: "You got the pow-er, doo, do, do doot, doo do, do doot. Superb, Del; you certainly had the power to run by feel and build into a great trot. You don't know until you go, and you found out you had more in the tank than you thought."
Coach Stazza was on hand for a quick quip on Derek's dynamic dash: "Del Boy is getting it! Run by feel, and things might just click into place. A 71" PB after illness and injury shows there's plenty … And I mean tons to come off."
Vaughan has a few options to consider for his next outing but is focusing on his "A" race—the Dublin Marathon: "May do a half around the end of July or August, but the main priority is training hard and staying injury free for October."