WUNDERBAR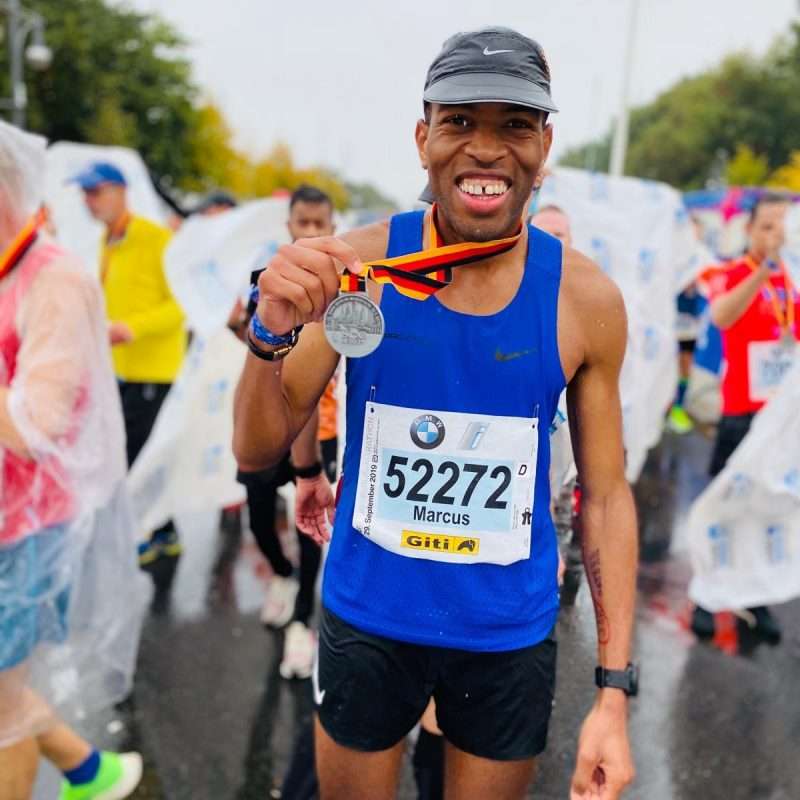 Instagram celebrity, Runner's World Most Inspiring Man nominee, and Stazza's Stable Stablemate, Marcus Brown banged out yet another wonderful marathon PR and Boston Qualifier in Berlin on Sunday. Marcus crossed the line in, 3:01:07 (a four-minute PR).
Marvellous Marcus' incredible marathon journey has taken him from 4:55 down to 3:01 in Berlin.
The Instagram celebrity's journey has inspired thousands, resulting in him being nominated for this year's Runner's World Most Inspiring Man.
Although Marcus continued his amazing run of marathon PRs, he wasn't satisfied. He told The Stable News: "In this build–up, I didn't hit the workouts in the way I would have liked. I had a few medical problems, including low iron levels. Coach Stazza had to modify sessions. But I made sure I kept getting out there and doing the workouts and the miles. That's what carried me through.
Inspirational Marcus' Instagram feed was bombarded with congratulations from many of his 16,200+ followers.
Instagram follower, Manrunella, posted: "Congrats man!! You should be so pumped. Well done on your BQ/PR!!"
Poster-boy for the New York City Marathon, Marcus will return to New York in November to have a crack at the sub three hours.
Coach Stazza told The Stable News: "Effectively, Berlin turned into a training run. Marcus felt he had loads left in the tank and ran conservatively. Because his Berlin build-up was plagued with issues, we've decided to carry his fitness on through to New York. It's a much tougher course but Marcus is one tough marathoner."